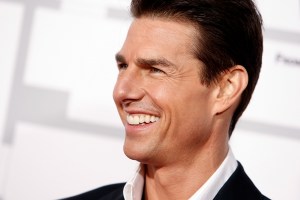 A funny thing happened on the way to the funeral being held for Tom Cruise's career … Valkyrie became a hit. Well, maybe calling it a "hit" is a bit too much. But still, the film, which was dragged through the muck for the better part of a year, grossed a respectable $153 million dollars worldwide and saw critics bending over backwards to say it was "not bad." Not bad! Couple that with his Golden Globe–nominated, over-the-top performance in Tropic Thunder, and you wouldn't be out of line if you called 2008 the year Tom Cruise made a comeback. Now the studios think he's viable again! (It also doesn't hurt that he hasn't had any tabloid-worthy outbreaks in nearly four years, making his career couch-jump free for 1,300 days.) So with all this newfound cachet, what's Mr. Cruise got lined up for 2009? Variety reports that he's attached to seven different projects, including ones that would pair him with Cameron Diaz (in the romantic comedy Wichita) and Ben Stiller (in the long, long, long gestating Hardy Men). Since we've always been fans of Mr. Cruise, we thought we'd give him some guidance. Here's a look at the three movies he should add to his IMDb page.
The No-Brainer!
David Cronenberg. Denzel Washington. Robert Ludlum. It doesn't take a genius to see that The Matarese Circle, an action thriller about an American spy who teams up with his archrival Russian counterpart to stop a larger threat, would be the first legitimate box office smash that Mr. Cruise has had since Mission Impossible III. Maybe if Mr. Cronenberg weren't directing and rewriting the script, we'd be a little less sure of The Matarese Circle; after all, Mr. Washington's track record is far from clean when it comes to these types of dual star movies—just look at the trailer for The Taking of Pelham 123, for reference. But with Mr. Cronenberg on board, The Matarese Circle has the chance to be something a little more special than just a regular blockbuster. And let's give Mr. Cruise some credit: He's one big star that doesn't balk at working with talented directors who possess their own distinct voice.
The Romantic Comedy!
The last time audiences got to love Tom Cruise—really love him—was all the way back in Jerry Maguire. That was 1996. Over the last 13 years though, Mr. Cruise been part of one action spectacle after another, pausing only a few times to tear down his well-worn screen visage (Magnolia, Eyes Wide Shut, Tropic Thunder). Well, it's time to give everyone back that loving feeling! Universal is hoping he decides on Lost for Words, a romantic comedy about an actor who finds himself embroiled in a love triangle with the beautiful Chinese director of the film he's working on and her jealous translator. Zoinks! Crouching Tiger's Ziyi Zhang co-stars, and while she might be too young for Mr. Cruise, let's remember that he is still married to Katie Holmes. If you think this sounds like the kind of quaint British romantic comedy that we've seen before (think Notting Hill), you aren't that far off base. Lost for Words was originally set to star Hugh Grant.
The Remake!
Every actor needs a remake on his or her ledger, right? The Tourist, a remake of the 2005 French film Anthony Zimmer, would find Mr. Cruise and Charlize Theron parading through Paris while avoiding the Russian mafia and the authorities thanks to a case of mistaken identity and various double-crosses. Valkryrie writer Christopher McQuarrie is working on the script, which, to us, sounds like a more serious version of Charade. Tom and Charlize on the same poster? Show them the money!