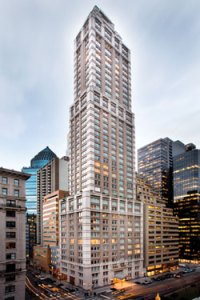 It was practically yesterday when listing a $32.5 million, 7,170-square foot Park Avenue duplex was something to boast about. It meant that you had an 11-room, four-bedroom Park Avenue apartment, which was a good thing, and neighbors could ogle your dual wet bars, one off the upstairs media room and the other off the downstairs library.
Now it means something else entirely. Luxury listings don't smell like wide-plank walnut flooring anymore: This weekend's Times, for example, pointed out that the wireless executive who just listed his five-fireplace penthouse for $15 million has been named in a shareholder lawsuit following his firm's stock collapse.
But $15 million is nothing. Corcoran senior vice president Robby Browne just listed a $32.5 million, 30th-floor duplex at 515 Park Avenue, which comes with two additional "studio/guest suites with baths and kitchens." According to city records, the place belongs to Christopher H. Browne, whom Money magazine, in a November 2007 profile titled "The Prince of Value," called a member of the aristocracy of American investing. (His firm, Tweedy Browne, was co-founded by his father, who worked next door to and brokered deals for securities godhead Benjamin Graham.)
The investor and his broker (no relation) would not comment for this story. It's entirely possible that the apartment is being sold because, say, he's moving somewhere sunny, or because he's even trading up in the neighborhood.
But, then again, Tweedy Browne's year-end letter to investors, which normally begins, "We are pleased to present," recently opened with, "Under current stock market conditions, we find that phrase rather disingenuous." According to its Web site, Tweedy Browne's Global Value Fund was down 38.31 percent last year, after double-digit gains in 11 of the past 15 years.
On the bright side, according to floor plans, Mr. Browne has a private elevator landing that leads to a 23-foot-long gallery, then to one of those wet bars, then to a 75-foot-long stretch of entertaining rooms along Park Avenue. The master bedroom suite alone has a 16-foot-long walk-in closet, a 13-foot-long gym, a 23-foot-long sitting room and a "bedroom gallery."
mabelson@observer.com