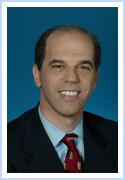 After more than three decades at NBC News, Phil Alongi has one more day of work left at 30 Rockefeller Plaza.
On Friday, February 27, Mr. Alongi will be stepping down as the executive producer of NBC News' specials unit in order to launch a media consulting firm, called Alongi Media Solutions.
"It's been a great run," Mr. Alongi told The Observer on Thursday afternoon.
Over the past several years, Mr. Alongi has organized, coordinated, and produced hundreds of large events for NBC News, ranging from political debates to the Olympics to the national political conventions to the memorial services for his colleague Tim Russert.
Mr. Alongi said he will use his expertise in logistical planning, television production, and business management to lure in clients interested in organizing and carrying out large public spectacles.
"What I really love to do is to pull together major events," said Mr. Alongi. "I love coming up with a theme, figuring out how to organize it, how will it play out, how to present a cohesive message, and how do you keep the interest of the audience either in person or via television. That's the kind of stuff that I'm really hoping to get my hands into."
Mr. Alongi hopes to cull his clients from the world of domestic think tanks, foreign governments, media companies, and political organizations. He said that he is currently on the verge of signing up two clients but could not discuss the specifics of the potential deals until the contracts were finalized.
Mr. Alongi will not be the first longtime NBC News veteran to be starting a media consulting or communications firm. In fact, in recent months, doing so has become all the rage among current and former 30 Rockers.
Back in May of 2008, Steve Friedman, the longtime mornings news producer (and former executive producer of the Today show), formed Vir2l, a full-service media consulting firm. In November, NBC News chief legal correspondent Dan Abrams launched a media consulting firm—to be staffed up by current and former journalists—called Abrams Research. And in January, former NBC News senior investigative producer Jim Popkin formed a Washington-based communications group called Seven Oaks Media Group.
Mr. Alongi said that his company's logo and Web site are currently under construction.
Unlike many of his peers, Mr. Alongi did not take a buyout from NBC News. According to Mr. Alongi, he approached NBC News president Steve Capus many months ago and asked to be let out of his contract. NBC executives complied. In the future, Mr. Alongi hopes to maintain a working relationship with NBC—albeit in a much reduced capacity.
Recently, for example, NBC executives asked Mr. Alongi if he was interested in returning to work from the editorial side on the 2010 Winter Olympics in Vancouver. "I said, 'Sure, why not?'" said Mr. Alongi. "It's a good way to keep my hand in the business here."
For the time being, Alongi Media Solutions will be based out of Mr. Alongi's home office, though he is also considering setting up work space in Manhattan. In terms of staffing, he plans on tapping into his network of friends and former colleagues who have recently bailed on the TV news business.
"I've been accumulating a list of some of the people who recently decided to step out of network operations," said Mr. Alongi. "It's from all the networks. I could be calling upon people from ABC, CBS, CNN, and NBC, and as projects come up, hiring them as contractors on an as-needed basis. If the business really takes off, I'll consider adding full-time employees. But I'm taking it one day at a time."