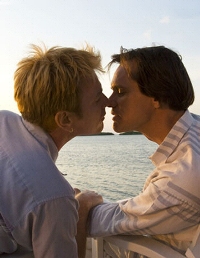 Whether it's dual movies about giant asteroids hitting earth or a couple of television programs dealing with the inner workings of a late night sketch comedy show, we're always up for a good Hollywood trend. While Entertainment Weekly has already gone ahead and proclaimed mall cops as the trend of 2009, we've actually found something a little more substantial to hang our hats on. As they say, trends always come in threes anyway, right? Well allow us to introduce you to the "I Love You" movies. No less than three films coming out this year have "I Love You" in their titles. And that can only spell one thing: trend alert! Here's a handy guide to help you tell them apart.
I Love You, Man
Logline: Every Judd Apatow movie meets every David Wain movie.
What you can expect: A recently engaged guy (Paul Rudd) doesn't have any male friends to select for his best man so he sets out to find one. Enter Jason Segel as the crass, ne'er-do-well ready for the challenge. You'd be forgiven for thinking this was a Judd Apatow production since in addition to Messrs. Rudd and Segel, people like Joe Lo Truglio (Superbad), Carla Gallo (Undeclared) and Liz Cackowski (Forgetting Sarah Marshall) all make appearances. But the sneaky thing about I Love You, Man is that it isn't actually a Judd Apatow production at all; Meet the Parents' screenwriter John Hamburg co-wrote and directs.
Prognosis: People might be getting tired of these bromantic comedies, but not us! Plus, the hilarious trailer prominently features The Pixies' "Here Comes Your Man". We've already pre-ordered our tickets.
I Love You, Beth Cooper
Logline: The Girl Next Door meets License to Drive.
What you can expect: At his high school graduation, the valedictorian (newcomer Paul Rust, who also has a part in Quentin Tarantino's Inglourious Basterds) professes his love for Beth Cooper (Heroes' Hayden Panttiere), the most popular girl in his class. Since this is a movie, later on that evening she shows up to his house and treats him to the greatest night ever. Chris Columbus directs, and while you wouldn't normally expect to see his name on such a benign rip-off of John Hughes, remember that he's already done it -the '80s romp Adventures in Babysitting.
Prognosis: Apologies to Ms. Panttiere and Mr. Rust, but this movie was a whole lot more fun when it starred Elisha Cuthbert and Emile Hirsch.
I Love You, Phillip Morris
Logline: It has already been described as Catch Me If You Can meets Brokeback Mountain.
What you can expect: Surprisingly, this has nothing to do with the tobacco company. In the film, Jim Carrey falls in love with Ewan McGregor (who happens to be named Phillip Morris) while the two share a prison cell. However after Mr. McGregor is transferred to another facility, Mr. Carrey keeps trying to escape the jail so that he can be with his love. I Love You, Phillip Morris premiered to fairly strong reviews at Sundance in January.
Prognosis: Mr. Carrey has said that the only three scripts he's ever felt compelled to do were The Truman Show, Eternal Sunshine of the Spotless Mind and I Love You, Phillip Morris. Those first two didn't work out too badly, so consider us cautiously optimistic.