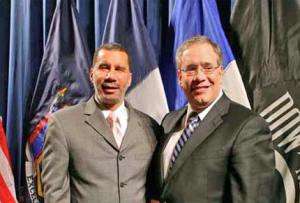 Charles O'Byrne has committed to being an unpaid adviser to David Paterson's re-election campaign, which the Times calls a "return," the Daily News calls "no return," and Fred Dicker calls "an embarrassing rejection."
Similarly, Paterson is either saying he's open to the millionaire's tax after all this time, or he's not.
Paterson now admits he authorized a leak on Caroline Kennedy, but he swears, not that one.
The Times Union is not amused by the Senate Democrats' little movie.
Queens Crap wonders how Michael Bloomberg's climate predications square with his development strategy.
Bloomberg continues to say New Jersey is trying to steal New Yorkers.
Adam Lisberg is proud of Christine Quinn.
At Assemblyman Sam Hoyt's town hall, there was vocal support for millionaire's tax.
Diana Reyna isn't helping Assemblyman Vito Lopez get an apartment building built, and he wants to change the law to get around her.
The untiring Norman Oder notices that there is no mention of Atlantic Yards or either baseball stadium on Bloomberg's campaign web site.
Eric Gioia is the most recent elected official to criticize the continuing subsidy of Madison Square Garden.
RenSquare is now openly a battle of wills.
Exxon owes more for cleanup upstate.
So do many other polluters.
The state is closing six campsites because of budget cuts.
Rahm Emanuel to Paul Krugman on Al Franken:  "Write a fucking column on how to seat the son of a bitch."
Chris Dodd and Chuck Schumer are both talking about nationalizing banks.
AND EARTHQUAKES.