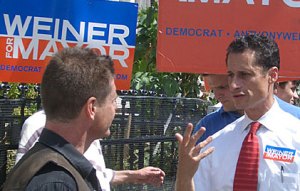 This week I looked at Anthony Weiner's suspiciously cool approach to this year's mayor's race, noting that he's not taking the usual opportunities to draw distinctions between himself and the other candidates.
Here's another issue he may have to himself. The headline from his latest press release:
Rep. Weiner to Announce Major Development in Dubai-Israeli Tennis Controversy
It was a big story in some corners.