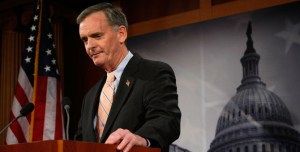 Democrats are still in good shape to win Judd Gregg's New Hampshire Senate seat in 2010, despite the Republican's abrupt withdrawal on Thursday as Barack Obama's nominee for Commerce secretary.
As it now stands, Gregg will return to the Senate and serve out the remainder of his third term, which expires after the 2010 election. This means that Gregg's former aide, 63-year-old Bonnie Newman, who had been tapped to serve as his successor, will not get to serve in the Senate after all. But since Newman had pledged not to run for it herself, competition for the seat should remain as wide-open as it was before Gregg's announcement.
That said, the 61-year-old lawmaker didn't quite slam the door shut on seeking a fourth term next year, something that would significantly alter the dynamics of the race. In a press conference Thursday afternoon, Gregg said that he would "probably not" be a candidate next year, and in a conference call earlier in the day he said he didn't "intend" to and that "sometimes, there's other things to do in life." There are two ways to read this.
Maybe Gregg is being sincere, and the seeming imprecision of his language doesn't mean anything. After all, he had been perfectly willing to leave the Senate for a less-than-glamorous Cabinet post – when F.D.R. had to offer Henry Wallace something, anything, after kicking him off the Democratic ticket in 1944, he made him Commerce secretary – in a Democratic administration. He would have been invisible in the job and Republicans wouldn't have forgotten his "betrayal;" there would be no post-administration career in elected politics for Gregg.
Add in the fact that it was Gregg who initially approached the Obama administration (at least that was White House Press Secretary Robert Gibbs' claim on Thursday), and a picture emerges of Gregg as a restless senator, a man looking to move on to a new challenge or out of politics altogether – not a guy who might now turn around a seek another six years in the Senate.
Read the rest.