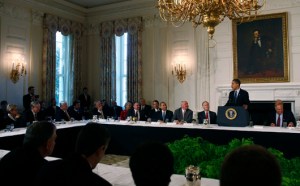 The G.O.P. is at war with itself. Or so we're told.
Unaccustomed to their new minority status and unsure how to handle a Democratic president with enormous popularity and considerable legislative momentum, Republicans are dividing themselves into opposing camps, each convinced that a different formula will return them to glory.
This, at least, is the narrative you might embrace if you consider the nation's 22 Republican governors a representative cross-section of their party's base.
The G.O.P. governors, along with their Democratic counterparts, were in Washington over the weekend for the National Governors Association's winter meetings. Not surprisingly, one of the main topics of discussion was the $787 billion stimulus package that President Obama just signed.
Some of the governors, like California's Arnold Schwarzenegger and Florida's Charlie Crist, loudly championed the package and welcome the relief. Others, like Louisiana's Bobby Jindal and South Carolina's Mark Sanford, have railed against the plan and flirted with rejecting some or all of the cash. A New York Times headline read "Rift Over Stimulus Embroils G.O.P."
But despite the arguments between these state leaders, the evidence suggests that there's not actually much of a rift among Republicans as a whole, either in terms of the stimulus or, more broadly, on how to define themselves in the Obama era. On these questions, the moderate governors don't really represent the party at all.
The Republican governors who have been most visible in their support for the stimulus are largely divorced from the national G.O.P. That is, they succeed in their home states in spite of their party label, regularly take steps to make themselves more appealing to Democrats and independents, and harbor no illusions about their futures at the national level. Connecticut's Jodi Rell and Vermont's Jim Douglas aren't about to test the 2012 waters, and even if he wanted to, Mr. Schwarzenegger couldn't because of his Austrian birth. And while Mr. Crist may well run for the Senate in 2010, he seems an unlikely presidential contender.
Meanwhile, the G.O.P. governors who have attacked the stimulus all seem to have some interest in 2012. Mr. Jindal and Mr. Sanford are both frequently mentioned as potential candidates, as are Mississippi's Haley Barbour and Texas' Rick Perry.
It is no coincidence that the governors most interested in appealing to the base voters of the Republican Party are all on one side of this issue, while the governors who aren't thinking about that at all are on the other side. This is strong evidence that the rank-and-file voters of the G.O.P. is actually quite unified, with ambitious politicians like Messrs. Jindal and Sanford eagerly trying to tap into their fervor and parochial moderates like Mrs. Rell free to defy it.
The data backs this up. A new Gallup poll found that Mr. Obama's approval rating has actually risen over the last month among Democrats and independents but fallen sharply among conservative Republicans (from 36 to 22 percent). Egged on by their favorite radio and television pundits, the G.O.P. base, it seems, has already made up its mind on Mr. Obama's presidency. To a moderate Republican governor in the Northeast, who must appeal to the Democrats and independents who still view Mr. Obama favorably, this doesn't matter. But to Republicans with national ambitions, it is a major motivating force.