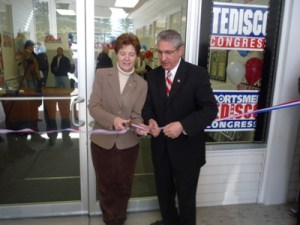 QUEENSBURY—Jim Tedisco cut the ribbon at his new campaign headquarters with a little help from Assemblywoman Teresa Sayward, who represents this suburban Glens Falls town in the state's lower legislative chamber.
She introduced Tedisco, noting that "we could not have a better leader" in the Assembly Republican conference or, her opinion, anyone better running for Congress at this moment.
Tedisco then thanked Sayward, and said her picture belongs in the dictionary next to "public servant." He also said that State Senator Betty Little's picture belongs there.
But Little wasn't there to take the compliment personally. Her brother (and law partner) Michael O'Connor smiled in the phalanx of Tedisco supporters in the back as the candidate referenced his "unbelievable, wonderful sister who I had the opportunity of serving with in the New York State Assembly, who now is just a dynamo in the Senate."
Little was a contender for Republican nomination for the Gillibrand seat before Tedisco was named the party's standard bearer. After that happened, she put out a statement saying "I was pushing for an open process that allowed the rank and file committee people, who do a lot of hard work on behalf of candidates each year, a chance for greater involvement.  That did not happen, but it is now important that we support the nominee and win this seat."
Neither Little nor O'Connor were immediately available for comment.