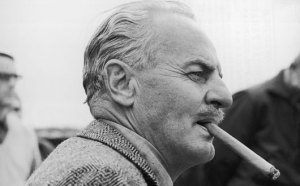 On Wall Street, and on parts elsewhere concerned with Wall Street, the non-news snows thick and fast. On last week's Daily Beast, the engaging online "aggregator" edited by Tina Brown, Edward Jay Epstein wrote in revelatory dudgeon about the fact that Berkshire Hathaway owns roughly 20 percent of Moody's. The big rating agency is certainly one of the principal villains in the present crisis, and there is a certain tasty irony that a big chunk of its stock is controlled by Warren Buffett, who famously called derivatives—a class of paper that in many forms required Moody's nihil obstat to get sold—as the financial equivalent of weapons of mass destruction. Unfortunately, however, as a casual stroll through Google reveals, this story was all over the media last year, which makes its current shock value zilch. As Lear observes, nothing can come of nothing.
Still, what Mr. Buffett might—some would say "should"—have done in his situation makes for an interesting philosophical, even moral, question. Surely the Sage of Omaha, paragon of what smidgen of virtue remains in our investment markets, must have been aware that one of his more profitable investments was generating handsome numbers by stamping sheer crap with its "AAA" imprimatur.
What were his options? In practically every institutional circumstance, there are basically two: "Voice" and "Exit." This duality was established by the social philosopher Albert O. Hirschman (his Exit, Voice & Loyalty: Responses to Decline in Firms, Organizations and States is a must-read for anyone in the business of public or private stewardship). Either you make a stink, or you vote with your feet, to put it baldly.
As a 20 percent owner of Moody's since 2000, Mr. Buffett would have been prevented from bailing out wholesale. But he retained the "Voice" option, and I do think he might have picked up the phone and made mild remonstration to a management that by 2006 was up to its withers in what can only be regarded as fraud under law. Perhaps he did. To paraphrase that kid outside Comiskey Park in 1919, say it's so, Warren!
Analogous thoughts came to me when I read a piece in last Saturday's Wall Street Journal by Henry Kaufman, the former Salomon bond guru, and a man of respect not only in the concrete canyons but in my own thinking. He's an old friend, and I have limitless regard for his intellect and his other sterling qualities.
With flawless, crystalline hindsight, Henry laid out the causes of our present affliction, and prescribed remedies therefore. But here's the thing. He became a director of Lehman Brothers in 1995 and remained one right up to the end. Surely someone of Henry's experience and perspicacity must have noticed, in his parsing of the figures the directors would have been furnished, the tell-tale growing piles of dirt thrown up from the holes the venerable firm was digging for itself. If he had, given the aura of executive privilege that prevails in board rooms, he might not have spoken up, but so might have exercised the Exit option and quit the board.
It isn't easy, especially when Voice leads to Exit, as it did in my case at least once. That would have been around 1971-72, when I was on the board of directors of Twentieth Century Fox, having succeeded to the seat held by the late Robert Lehman. We assembled one month in the old Fox building way over on West 56th Street. Item No. 1 on the agenda was a substantial pay increase for Darryl F. Zanuck. When this was read out, I raised an admonitory hand and urged that, in view of the fact that the company was about to report a loss of some $80 million—real money back then, which would also put it in default of certain key provisions of its loan agreements—any consideration of substantial executive pay raises be deferred. This did not go down well.
Fast-forward a couple of months. I was summoned to the office of the late Fred Ehrman, then CEO of Lehman Brothers, of which I had been a partner for some five or six years. A couple of other senior partners were in the room, including my father (a circumstance that would enrich at least a generation of Manhattan shrinks). They sat silently by as Ehrman informed me that he had gotten a call from Zanuck to complain of my subversive behavior at Fox, and unless I quit the board, and Lehman replaced me with another partner, Fox would take its investment banking business elsewhere. In rebuttal, I pointed out that Fox and Zanuck had destroyed their financial credibility and therefore had no banking business to give out, as no one would touch Fox paper. I followed this eminently reasonable observation with a more ardent, anatomically correct thought as to where Zanuck might put his business. To no avail, however. I was toast. In due course, I was replaced on the Fox board by Fred Ehrman.
Doing right, like love, may be wonderful, but it can also be expensive. But never as expensive as sitting by and watching the seeds of hell be planted.
And now, an unrelated footnote. Last week, I searched the dusty attic for my old investment banking hat, finally found it and put it on, hoping that, like the conical topper sported by Mickey in the "Sorcerer's Apprentice" segment of Fantasia, it would furnish me with near-magical deal-structuring powers. Specifically, I was trying to figure out a good, workable answer to the problem of properly valuing "toxic assets," because until this can be solved, nothing will or can happen.
I finally hit on a solution that seemed to me both elegant and equitable. Very pleased with myself, I put it aside, intending to use it in this space today. And then, to a mixture of chagrin and pride (that a mind finer than mine should work in the same direction), I found myself pipped at the post, as it were, by Columbia's Jeffrey Sachs, who had posted a plan of his own on Huffington Post, a plan identical to mine in virtually every respect. You can find it at http://www.huffingtonpost.com/jeffrey-sachs/a-proposal-on-how-to-clea_b_166303.html. Believe me, this is a rare instance where ingenuity and common sense jibe. Let's hope that someone in Washington can read, unlikely as that may sound.
editorial@observer.com