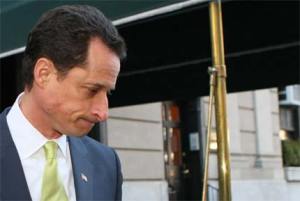 As the 2009 mayoral campaign draws closer, Anthony Weiner, the intense, rail-thin Brooklyn congressman, is playing it suspiciously cool.
After having spent much of last year outside New York as a presidential-campaign surrogate for Hillary Clinton, he has remained immersed in Washington issues, getting into the news most recently for his role in procuring stimulus money for hiring police. What he is not doing is acting like someone who is running for mayor: no regular press conferences attacking Michael Bloomberg or upstaging fellow Democratic candidate Bill Thompson; no ceremonious openings of campaign offices; no announcements of staff hires.
"It doesn't seem like a full-out, running-for-office campaign," said Democratic consultant Joseph Mercurio, who, in 2005, worked on a rival campaign.
Mr. Weiner, Mr. Mercurio said, "looks like he's raising money for a mayoral race-but not a race this year."
The congressman says he's just doing his job.
"Look, I don't know," said Mr. Weiner after a Feb. 17 press conference about federal stimulus money with his mentor and former boss, Senator Chuck Schumer. "I'm trying to figure out what feels right. And what feels right right now is, in the light of a once-in-a-lifetime crisis, really, Washington is being turned to help out New York. Being there and working hard on those things seems like the right thing to do."
"Whether it turns out to be the right thing politically, I'll wait and see," he said. "But I certainly feel right now, I'm hearing a lot of New Yorkers not say, 'Why aren't you hitting the mayor more?' but saying, 'What are we doing about mass transit? What are we doing about saving my job and businesses?' and things like that," he said. "So I'm going to let that guide me."
Mr. Weiner is keeping a much lower profile than one would expect from (a) a candidate for mayor who will be particularly reliant on free media exposure to keep up with his billionaire opponent, and (b) a politician who, even by politician standards, is not given to going about his business quietly. 
Mr. Weiner says that what he's doing now isn't much different from his approach during the run-up to his first campaign for mayor, in 2005, when he lost in the primary but outperformed expectations, finishing second and narrowly missing a runoff against the eventual nominee, Fernando Ferrer. (The result was actually close enough to prompt calls for a recount, which Mr. Weiner made moot by conceding.)
"People made fun of me at the time, saying, 'Oh, Weiner, you really got to be going to more Democratic clubs, and these policy speeches and books you're putting out are really not that important. You need to be getting endorsements and things like that.' And it didn't feel right then, and I think the way we did it then shows I was probably where voters were," he said.
Actually, Mr. Weiner's low profile the last time around wasn't by design so much as it was the result of the fact that he was considered a long-shot candidate. His opponents grumbled afterward, with some cause, that he actually profited from a relative lack of public scrutiny that allowed him to present catchy campaign proposals without having to go into too much pesky detail.
In that regard, Mr. Weiner's more substantive-looking approach this time may serve him well, as he produces policy books ("Keys to the City: Keeping New York City the Capital of the Middle Class") and wonky speeches on the local economy that have garnered little press attention, but clearly give him things to point to as thoughtful ideas.
It's still early, of course, and unless Mr. Weiner drops out, he'll have to start acting like a more traditional candidate once the campaign begins in earnest.
But there's another reason Mr. Weiner may be treading somewhat more cautiously than usual, which is that his opponent, Comptroller Bill Thompson, is well established, generally well liked and African-American.
In 2001, a racially divisive primary between Mark Green and Mr. Ferrer tore the Democratic Party apart heading into the general election, which, along with the terrorist attacks on Sept. 11, set the stage for Mr. Bloomberg's first election.
Asked whether the prospect of a fight with Mr. Thompson posed a special challenge, Mr. Weiner said that talk of "apocalyptic divisions in the party and a racially divisive race" in 2005 didn't come to pass, and that it won't this time.
"You know, I would rather lose a campaign than have it divide our city and weaken our party," said Mr. Weiner. "I mean, that's the bottom line. I didn't think that a runoff in 2005 was good for the future of the party, the future of the city, and I took a step back even though I thought I did well enough to have earned a right to be in that runoff. So, I'm not concerned about that, and I think that we've got to give voters more credit."