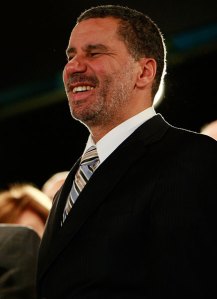 When real estate markets crash, low-income-housing developers often can escape relatively unscathed. After all, unlike luxury condos, there is always a demand for apartments that target low-income households, so downturns tend to bring shovels to a halt on the market-rate projects far faster than on the subsidized ones.
But the ever-deepening economic crisis has proven anything but typical, and developers of low-income housing are being sucked into the vortex, feeling the same paralysis affecting the rest of the real estate world. Now, on top of the lending crisis affecting all construction, a plunge in public funding awaits, as the cash-poor city and state governments are proposing to slash hundreds of millions of dollars in housing subsidies.
Affordable housing has been a stated priority of both Mayor Michael Bloomberg and Governor David Paterson, and cuts will clearly challenge both men's commitments to the issue.
Already, federal incentives for low-income-housing developers have been falling in value, amplifying the effects of a prospective drop in city and state funds, which often supplement federal money.
"It's certainly the most challenging time that I've seen in the affordable-housing business," said Bernie Carr, executive director of the New York State Association for Affordable Housing, an industry group. "Generally, we've weathered recessions pretty well—it's a countercyclical business."
Housing advocates and developers view the governor's budget proposal as especially damaging. That's little surprise given that the budget seeks to close a $14 billion gap, engendering a cacophony of complaints from all quarters around the state. In the housing field, the governor's budget calls for about $105 million in capital spending on housing through the state's housing agency, about $200 million less than last year's total allocation, though roughly equal to previous years' amounts. While the Paterson administration apparently viewed the extra $200 million in last year's budget as a one-time shot, advocates had hoped to see it repeated.
It's difficult to put a figure on the amount of below-market-rate apartments that will or will not be created because of the funding cuts, as spending per unit varies widely from program to program. Still, $100 million of subsidy could easily help fund a couple thousand apartments.
The governor has also sparked resistance with a proposal to take money from a revenue stream from the Battery Park City Authority, which was expected to create a $400 million affordable-housing trust fund in the city. Mayor Bloomberg, City Council Speaker Christine Quinn, Comptroller William Thompson and several other elected officials and advocates have protested the move, as the trust fund was considered key to the city's affordable-housing development program.
The Paterson administration has proposed bonding the money from the surplus and splitting the $540 million it would receive evenly between the city and the state.
Also in the governor's budget is a program that could pit housing advocates against their higher-education counterparts. The Paterson administration proposes funding $350 million in higher-education loans with money that is typically used by developers as tax-free financing for below-market-rate housing. The state is subject to a certain bond-volume cap on that type of financing, demand for which has outpaced supply in recent years, and thus the education program could further strain resources on the housing side.
A state budget spokesman, however, said the affordable housing financing levels will not be decreased. This is perhaps due to a temporary increase in the cap as part of a federal housing bill last year.
By far the largest local commitment of direct subsidy for low-income housing comes from the city, but that, too, faces a major rollback. In his preliminary budget presented last month, the mayor proposed cutting the city's capital plan by 30 percent. While the budget did not specify cuts to individual agencies, a 30 percent reduction in the housing budget would mean a $390 million cut over the next four years, based on the $1.3 billion the city had slated to allocate listed in budget documents.
Such a cutback would undoubtedly strain the Bloomberg administration's 11-year plan to build or preserve 165,000 units of below-market-rate housing. Although the mayor has repeatedly made clear his commitment to carry out the plan, it has already been pushed out an extra year in the face of the economic crisis, and a recent estimate called for starting 5,063 new units this fiscal year, down more than 35 percent from the 7,947 estimated last fall.
As with seemingly every other industry, those in affordable housing have turned hopefully to the federal stimulus package, and indeed billions have been allocated to numerous programs that could fund housing. The state could be eligible for an estimated $300 million–plus for such programs, but it's unclear how much of that could be used given various restrictions.
For instance, a $2.25 billion nationwide fund meant to replace tax credits uses a program that requires developers to pay workers a prevailing wage. However, low-income-housing developers often steer clear of such wages as the cost is too high, putting in doubt the ability to tap all the money locally, which would top $200 million in the state.
Still, David Muchnick, coordinator for the group Housing First!, said that while the amount for housing was a relatively small chunk of the stimulus bill, there is still hope on the part of advocates that the federal government will provide more for low-income units.
"I think there's still room for optimism insofar as they recognize that they still need to address the rental housing and multi-family housing situation more aggressively," he said.
ebrown@observer.com