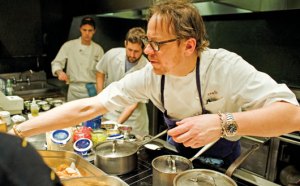 For years, Damon Wise—executive chef in charge of celebrity restaurateur Tom Colicchio's expansive empire of Craft restaurants—has dreamed of opening his own ultra-fancy fine-dining establishment in the old-school New York tradition. "Penguin suits, stylish service," he told The Observer. "I think a lot of that stuff is going to be forgotten before long. You barely have to wear a tie or a coat when you go out to eat at a restaurant anymore. My thing was, it's nice when you get dressed up to go out to eat. Even though it's expensive to eat in New York City, it's kind of fun when you're waited on hand and foot and, at the end of the day, it's well worth the money."
So much for that, bucko! "Now, it's going to be impossible to do," said Mr. Wise, referring of course to the sluggish world economic situation. "People don't want to pay that kind of money."
They are lining up, however, at the flagship Craft restaurant's private events space at 43 East 19th Street on Friday nights for Mr. Wise's Damon: Frugal Friday, a makeshift eatery serving an eclectic array of some 30 small-portioned items, priced between $5 to $9 a pop. Think rough doodling paper instead of white tablecloths; warm oysters and meat on a stick replacing big-ticket suckling pig and dry-aged porterhouse; and cranked-up classic rock and hip-hop rather than ambient Muzak. The easygoing, stripped-down aesthetic is readily apparent to all who enter. A homemade cardboard sign is affixed to the otherwise ornate front door with strips of bright blue painter's tape.
"Somebody from the press called and said they wanted our logo and press packet for this. And, it's like, there's no logo! It's low-budget, man!" Mr. Wise said.
"We're just trying to get a pizza stone," he added, checking his watch around 4:20 p.m. on a recent Frugal Friday—barely enough time for a quick trip to the culinary superstore Sur La Table. "The pizza dough we're using is not quite as crispy as I'd like to get it."
With his frazzled hair and dark-rimmed specs, Mr. Wise, a 37-year-old Brooklyn resident, is the kind of guy who'd look right at home at a Phish concert. Not grilling cheese sandwiches for ticket money in the parking lot, though. In fact, despite a predilection for phrases like "Let it rip!", he is quite the gourmet.
Born in Baltimore, Mr. Wise has a résumé that includes stints at Gramercy Tavern, Lespinasse and Philadelphia's posh Le Bec Fin.
His classical training shows on the Frugal Friday menu, where crispy chicken wings with cabrales cheese is about the closest thing to generic comfort food. Tiny jars of chicken liver pâté and guinea hen rillettes are among the more popular items. Even the tiny 6-inch pizzas are somewhat exotic: One is topped with ricotta, black cabbage and a truffle viniagrette; the other with mortadella, cauliflower and fiore sardo.
"I think you should definitely eat the duck hearts," Mr. Wise recommended. The small $9 bowl of tender offal is served with duck egg and farro. "It's simple, man, and delicious," he said. "I put it on thinking, 'Oh, nobody will order this.' Lo and behold, it sells pretty well. I was very surprised."
For a guy usually relegated to the sidelines at Mr. Colicchio's charity events or the occasional brief cameo on the celebrity chef's popular television series Top Chef—"people told me I didn't smile enough," Mr. Wise said of his most recent appearance on the show—it is a rare opportunity to showcase his own tastes and talents.
And yet despite a three-star rave from New York magazine and frantic Twittering about his chicken livers, Mr. Wise insisted he wasn't setting out in search of critical acclaim. "I'm just trying to make wholesome food that people can enjoy at a decent price point," he said. "I don't want to go under the microscope and be criticized for, ya know, my steak stick with preserved tomato. You know what I mean? It's steak and a tomato, that's it! It's just fun to eat and delicious."
Still, the success of Frugal Friday is begging the question of when Mr. Wise might go out on his own. "All my buddies—all of them: 'When are you going to do it, dude? You gotta do it, dude,'" Mr. Wise said. Now the only question is if shirts will be required. "I'll start with the wholesome restaurant, low price point, and then spread out from there. I have a whole umbrella of concepts that I'd like to do. Just a bunch of fun stuff and have a bunch of people come on board that want to have fun with food and not really look at it so seriously, but make it taste good and filling for people."
cshott@observer.com