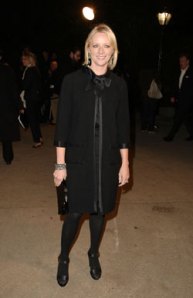 There's nothing like gallons of sweat to bring people closer, and so Allure magazine editor Linda Wells, film producer Jane Rosenthal, Fox 5 news anchor Rosanna Scotto and NBC CEO Jeff Zucker's wife, Caryn, spin together at trendy Upper West Side gym Soul Cycle, which offers classes with names like Soul Survivor and Soul Burn. But their friendship transcends the gym, and so on Monday, Feb. 9, these four ladies gathered for a Valentine's Day luncheon sponsored by Allure at the Oak Room to support Events of the Heart, a nonprofit organization that raises awareness about women and heart disease.
"It's the one part of our bodies that cannot be affected by Botox!" Ms. Wells told a group of women seated around a large square table covered in a pink tablecloth who were crunching on lightly dressed lettuce leaves. 
"I think we always pay attention to what's immediately important and it's usually superficial things—the way we look, our hair, our wrinkles, and we forget to pay attention to our hearts," Ms. Wells told the Transom. "I go to my spin class almost every day. It's really fun! We're all addicted to it, I think."
But according to Ms. Wells, the classes are not about competition for her and her high-profile friends. "Our classes are candlelit so you can't look around at everybody even if you wanted to," she said.
Ms. Rosenthal, dressed in a belted gray dress and a purple cardigan, said that her favorite class is Gospel Spin with an instructor named "Derryl." (Hallelujah!) But the classes aren't exactly conducive to gossiping.
"No, you can't talk! You just close your eyes and spin as fast as you can," said Ms. Rosenthal. "The competition is only about how sweaty we are afterward and it's usually a toss-up. And you probably wouldn't want to get close enough to actually check."
The Transom was also curious about the ladies' Valentine's Day plans.
"Jeff and I usually do something with all the kids. We take them out to an early 5 o'clock pasta dinner at Serafina, which is my kids' favorite," said Ms. Zucker. "And we give them little heart candy." (The Zuckers are waiting for their 12th wedding anniversary in June to exchange gifts.)
Over in the corner, the leggy Portfolio editor Joanne Lipman, dressed in Chanel, was catching up with Ms. Wells.
"Well, I've been married for a really long time so …" said Ms. Lipman, breaking into a giggle. "We just stay home and hang out with our kids and sometimes they cook for us. But everything is fine with me. Ordering out, takeout, whatever."
ialeksander@observer.com