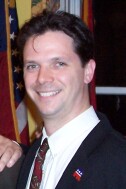 "It's time to say enough selling out!"
That's the message from the president of the New York Young Republican Club, who sent a message through Facebook to rank-and-file Republicans urging them to lobby their county leaders to block Michael Bloomberg from being allowed into their party's primary.
Tomorrow, Bloomberg is meeting the county chairmen who could decide to allow the mayor–who left the party last year–to run in their primary.
President Daniel Peterson said in a previous interview that he'd vote for a Democrat instead of Bloomberg is the Republican nominee.
Here's the message from Peterson:
Dear Republican Friends,

Tomorrow, all five county chairmen representing the Republican Party in New York City will meet to discuss whether or not they should allow Mayor Bloomberg run on the Republican line this Fall.

The Republican Party in New York City has fallen and hit rock bottom, mainly because it has drifted from the core party principles that we so often fight for. For us to support the mayor for a Third Term goes against many of those important ideals that define who we are.

I ask that you contact your county chairman or all five county chairman and tell them that you oppose giving Mayor Bloomberg the Republican line this year.

We are up against tough forces, but when it comes down to rebuilding our party on basic conservative foundations, we must strongly encourage opposition to a Third Mayoral Term.

Chairman Craig Eaton – Brooklyn GOP info@brooklyngop.com

Chairman John Friscia – Staten Island GOP

chairman@sigop.com

Chairman Phil Ragusa – Queens GOP info@qgop.com

Chairman Jennifer Saul – Manhattan GOP contact@nycrepublican.org

Chairman Jay Savino – Bronx GOP secretary@bronxcountygop.com

It's time to say enough selling out!

Please, email the county chairs. As the grassroots base, we are the voices the chairmen should be listening to. Not the has-been elected officials. We are not saying Bloomberg shouldn't run if he wants. We are just saying he should not run on our line. The Republican Party.

Thank you,

Daniel Peterson

President

New York Young Republican Club