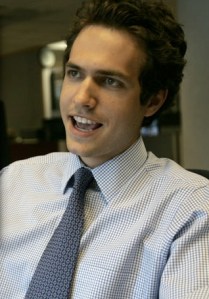 He hasn't even been three weeks yet on the job, and The New York Times' new boy wonder has been pumping out the bylines!
A.G. Sulzberger, 28-year-old son of Arthur Jr, has produced seven bylines already.
In February, a Times spokeswoman told The Observer that Mr. Sulzberger would be working for the City Room blog. True, but not exclusively! Quietly, Mr. Sulzberger's been working for the paper's continuous news desk, serving as a pinch-reporter (no pun intended) and rewrite man for the paper, the Web and several blogs. He's even landed an A1 (shared) byline!
More remarkably, he's figured out the secret trick of life on the Web: Blog bait! Like this post about a Purim party thrown by a Daily Show With Jon Stewart writer.
Inside the newsroom, we hear he's got all the attitude and presence of an intern. He's shy and has a nose-to-the-grindstone work habit. He leaves work right on time every day and we've had two Times sources tell us he seems a bit intimidated by his surroundings. (Don't worry, A.G.! We have a feeling you have nothing to worry about.)
Mr. Sulzberger's first post for City Room, which ran on March 2, was a classic rookie item about snow, drawn from a briefing Mayor Bloomberg made to reporters. Written in a somewhat flat style that relied heavily on quotes and figures (did you know the city has 6,000 miles of roads?), it garnered only five comments, including one in verse ("I went to school in snowstorms,/ In blizzards and the like,/ Today t'would trigger brainstorms/ If through snow kids did hike").
Next, Mr. Sulzberger got top billing on a shared byline with The Times' answer to John Henry, Sewell Chan (with some additional reporting from Jennifer 8. Lee, Joel Stonington from New York, and Hari Kumar from New Delhi), on March 5. The post, about an auction of Gandhi's meager possessions, also ran on A1 of the paper and sparked 156 comments that focused on the politics and ethics of the sale. No one seemed to realize what a big deal it was for young Mr. Sulzberger to go from one blog post (about snow!) to A1 in three days: That's like a newly hired chorus girl suddenly promoted to star of the show. (Then again, it is a chorus girl whose father owns the theater.)
Mr. Sulzberger's reporting on snow found its way into a story by Robert D. McFadden on March 2, "Biggest Snowstorm of the Winter Sweeps Across the Northeast," which Mr. Sulzberger followed up with a bylined story headlined "East Coast Cleans Up After Snowstorm." (Way to stay on the story, Gee!)
He also contributed reporting to Patrick McGeehan's March 10 story on New Jersey-based job cuts created by the merging of Merck and Schering-Plough.
He also shared a byline on March 6 with Robert Mackey of The Lede on Iran's plans to release journalist Roxana Saberi and with Shaila Dewan's "Officials Identify Alabama Gunman" from March 11.
Not bad for a rookie. Imagine what he'd get done if he worked late.