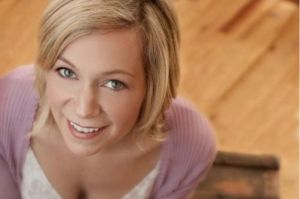 Carrie Preston should be more famous. When we caught Duplicity over the weekend and saw Ms. Preston pop-up as a lonely corporate travel agent who, while drunk on Appletini's, gets seduced by Clive Owen, we immediately knew her face—it just took us a little while to figure out why. Ms. Preston is one of those actresses. Like her Duplicity co-star Denis O'Hare (Milk, Michael Clayton, Garden State and a host of other movies), she's almost instantly recognizable in that "don't I know you from somewhere?" way. She's made the Law & Order rounds; she's appeared on both Desperate Housewives and Private Practice, meaning a stint on Grey's Anatomy cannot be far behind; she's been in indies like Transamerica and blockbusters like My Best Friend's Wedding; and she's a regular cast member on the under-watched True Blood. Ms. Preston even worked on one episode of Lost, guest starring as Ben Linus' deceased mother. This wouldn't have been weird but for the fact that she's married Michael Emerson, who plays Ben as an adult. Um, awkward!
Still, in every role, Ms. Preston exhibits the traits of an expert character actress. She's the definition of the cliché "there are no small parts, only small actors." The thing about her work in Duplicity that made us sit up and take such notice was not only how good she was, but how she enhanced the performances of both Clive Owen and Julia Roberts. Opposite Ms. Roberts in an interrogation room, Ms. Preston forces the Oscar-winner to emote pity, anger, sympathy and sadness without saying a single word, and gets one of the biggest laughs in the film while doing it. Meanwhile, during her seduction by Mr. Owen, Ms. Preston's warm and expressive face seems to get the actor to put his guard down and really have fun. This includes Mr. Owen employing a completely over-the-top southern accent and doing what amounts to a pratfall.
We're not sure what the future holds for Ms. Preston. It's tough to imagine her fronting anything other than an independent movie and we doubt she'll ever get to be the star of her own television show. But, in addition to True Blood, she'd be ideal on any number of programs as a regular. One that immediately springs to mind is Mad Men. Ms. Preston's versatility seems tailor made for the halls of Sterling Cooper. At the very least, she can continue to be one part of what has to be the coolest couple… ever. Can you imagine what a dinner party is like in the Emerson-Preston household?