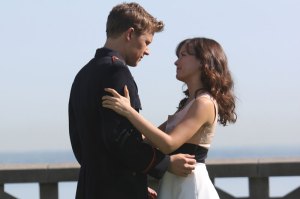 With almost three dozen new shows set to premiere in the next couple of months, spring has officially become the new fall. ABC has six brand-new shows, including Castle (Monday, March 9, 10 p.m.), which stars Nathan Fillion as the title character, a mystery writer who teams up with a detective (Stana Katic) to help solve a rash of murders that just so happen to be based on his novels. Mr. Fillion has been touted as "the next big thing" for quite some time now, but we have the sinking feeling that he's destined to become the Ryan Reynolds of television.
Not content with just one show about detectives, ABC also has The Unusuals (Wednesday, April 8, 10 p.m.), which will jump into the post-Lost time slot currently occupied by Life on Mars after that BBC import wraps its only season on April 1. With a wonderfully quirky cast, including Adam Goldberg, Amber Tamblyn and former Lost castaway Harold Perrineau, The Unusuals has so far been compared to everything from M*A*S*H to The Office. Needless to say, expect some wackiness.
If you're in the market for a more traditional police procedural, check out John Wells' Southland (NBC, Thursday, April 9, 10 p.m.). After his ER shuffles off this mortal coil for good on April 2, the super-producer will return to the airwaves a week later with this ensemble drama about a group of Los Angeles police officers (one of whom is played by our beloved OC scoundrel, Benjamin McKenzie). Southland will try its luck against Harper's Island (CBS, Thursday, April 9, 10 p.m.), a 13-episode murder mystery in the vein of Ten Little Indians. Early guess: The butler did it.
Meanwhile, Kings (Sunday, March 15, 8 p.m.) was originally supposed to take over for ER on Thursday nights, but it appears NBC got cold feet and stuck their modern-day version of the biblical story of King David on the less crowded Sunday night instead. Silly premise aside, we're most interested in seeing how the notoriously foul-mouthed Ian McShane adapts to the family hour on network television.
Things look a bit brighter for NBC's Parks and Recreation (Thursday, April 9, 8:30 p.m.); the Office-spinoff-that-isn't-a-spinoff stars former Office co-star Rashida Jones and Amy Poehler, playing what appears to be the long-lost older sister of Election's Tracy Flick. Added to a lineup that already features My Name Is Earl, The Office and 30 Rock, Parks and Recreation looks poised to form a solid block of comedy for ratings-deficient NBC. At the very least, it can't be as bad as Kath and Kim.
crosen@observer.com