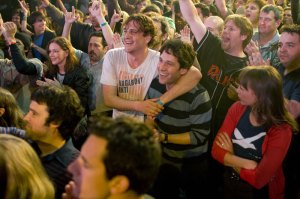 There is real comfort to be found within the snug and and homey confines of a good romantic comedy. We watch as a deserving and endearingly flawed couple meet and slowly fall for one another (queue the music for the swoony montage!) before having to face some sort of obstacle, perhaps a fight based on some sort of silly misunderstanding, until they are satisfyingly reunited before the credits roll. We walk away feeling that maybe, just maybe, everything can be O.K. in the world.
In I Love You, Man, 2009's first true heartwarming film of this genre, Paul Rudd and Jason Segel walk angrily away from one other after exchanging harsh words over summer salads and the pronunciation of the movie Chocolat. The fact that the film isn't quite a romance in the traditional sense, but about the just-as-complicated feelings that can arise within male friendships, doesn't take away from the inevitable sweetness and good feelings brought on by the movie's final act. It just happens to be funnier than most of those typical boy-meets-girl affairs. A lot funnier.
Just over a week before I Love You, Man's March 17 premiere (in theaters March 20th) its writer, director and producer John Hamburg sat by the window on the sixth floor of the Soho House, sipping green tea, taking a breather from an intense promotional tour. "Even though it's a studio [Paramount] movie, it feels like we're just rolling from city to city with the reel under our arm, like, look what we got!" Mr. Hamburg laughed. At screenings and events from coast to coast, he's watched as die-hard Clueless fans have gone nuts over Paul Rudd, and spied the hopelessly flirtatious Jason Segel work a room. ("He's the Warren Beatty of R-rated comedy," Mr. Hamburg said.)
The previous two days in Mr. Hamburg's hometown (he and his wife, actress Christina Kirk, live in Greenwich Village) included a private screening, party and cast dinner at the Waverly Inn—about which he may or may not have been kidding when he said he couldn't have gotten in without his famous cast. Indeed, though Mr. Hamburg has been in the business since his early 20s, and has quite a list of hits on his IMDB page (writer and director of 2004's Along Came Polly, a co-writer of Meet the Parents and its successful sequel, Meet the Fockers, not to mention Zoolander), the 38-year-old, who looks about a decade younger, is as keen and witty as one might imagine, but decidedly low-key and down to earth.
"John is simply great company," said Paul Rudd, over the phone. The two men have known each other for years through comedic New York circles and mutual friends like David Wain, but had never worked together. "I always thought he was a great writer and a great guy. But this script [ for I Love You, Man] just killed me. It was so fully realized and subtle in its detail and humor. … It's truly one of my favorite scripts that I've ever read. I'm continually surprised that this idea hadn't been made before."
I Love You, Man centers on Mr. Rudd's character, Peter Klaven, a guy described as a "girlfriend guy" who's let all of his male friends fall by the wayside. But it's only after he gets engaged that he realizes he's deficient in the male-friend department: He has no one to ask to be his best man. And so, with the support of his fiancé (Rashida Jones) and family (Andy Samberg, J. K. Simmons and Jane Curtin), he goes on a quest to find a best friend. There are the obligatory bad-date scenarios before finding Mr. Right: Enter Jason Segel, who plays Sydney Fife, a brash yet charismatic single man living life entirely differently from Peter. The two men, following classic rom-com structure, start to spend more and more time together (and yes, there is a music montage courtesy of Rush!) before the third act hurdle appears. The movie is often painfully funny, but never cruel. And unlike other popular R-rated comedies that have come before and shall remain nameless, the jokes don't come at the expense of any of its characters. The writing is sharp without ever being biting.
"I'm not good at writing mean characters," Mr. Hamburg said. "It's not the way I go through the day, observing that kind of humanity with people. I know it's out there in the world; it's just not what I'm interested in." He laughed. "I like exploring people who have a lot foibles and are just trying to make it from one day to the next without embarrassing themselves horribly."
MR. HAMBURG GREW UP on the Upper East Side and attended Dalton. When he was 16, his parents (broadcaster Joan Hamburg, and Mort Hamburg, a lawyer) gave him a video camera—"It was still kind of a novelty item," he said—and he started obsessively making short films. He attended Brown, majored in modern European history ("not a lot of requirements") and in his senior year roomed with his friend Michael Showalter (future member of the comedy troupe The State who's found his own success in film writing and directing).