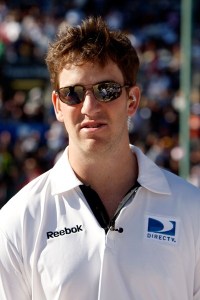 New York Giants quarterback Eli Manning threw his support behind drug and alcohol treatment programs at a glitzy gala benefiting the nonprofit Phoenix House at the posh Plaza Hotel on Monday, March 30, featuring live performances by Wyclef Jean and Miri Ben-Ari.
But the boyish 28-year-old pigskin personage couldn't keep his mind off a teammate currently struggling with other demons.
Giants wide receiver Plaxico Burress was scheduled to appear in Manhattan Criminal Court the next morning on charges of weapon possession, following an incident last November when the 31-year-old reportedly fumbled a gun and shot himself in the thigh inside the Latin Quarter nightclub on Lexington Avenue. (Mr. Burress has pleaded innocent in the case.)
"He's got a big day tomorrow," Mr. Manning said of his indicted teammate, who remains out of jail on $100,000 bail. (At the hearing, a judge postponed the case until June.)
"I just hope for the best for him as a person," added Mr. Manning, who was wearing a black checkered suit and crisp white shirt and was accompanied by his lovely tanned wife, Abby Manning.
"It's not about football," Mr. Manning said. "He's been a great teammate, a great friend of mine, for now, going on about four years. I hope the best for him, from a personal standpoint and, you know, looking out for his future."
Fellow Giants teammate Shaun O'Hara also attended the dinner. Mr. O'Hara declined to comment on whether Mr. Burress would be back with the team next season. "I'm not here to talk about Plaxico," he said.