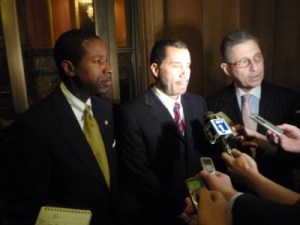 ALBANY—David Paterson, legislative leaders and top staffers just emerged from a 90-minute meeting on an M.T.A. bailout package and declared that it will not include bridge tolls.
"The framework I see is that the Senate has really eliminated what my choice would be, which would be to have the tolls. If that's the case, then we're going to have to try to find alternative ways to come up with several hundred million dollars that would replace what would have been the revenues generated by the tolls," said David Paterson, who made a rare appearance at a press scrum outside his second-floor office.
Silver was asked if that was the case—he put forward a package that included $2 bridge tolls.
"I don't think I have a choice," he said. "This is not a unicameral legislature. We put out a plan, it's apparent to me that it will not pass muster in the Senate. I think what's most important is we're dealing with the one thing the three of us agree [on]—the actions of the M.T.A. board cannot be allowed to stand. We have to get together and provide the revenue and ensure these 31-percent fare hikes do not stand."
The governor said the meeting was productive, and all the players were at the table. In addition to Smith and Silver, top aides Dean Fuleihan and Angelo Aponte were called in. I also saw Marc Shaw and Tim Gilchrist—top advisers to David Paterson—when the conference room door opened; Gary Dellaverson, the M.T.A.'s chief financial officer, walked in and out.
Smith said his staffers are considering a "menu" of things to replace the revenue from tolls, which I'm told by members and other sources includes a gasoline tax, increased automobile registration fees and parking fees.
"Write those down," Paterson joked when asked by reporters if any of those options are under consideration.
Asked specifically about a gas tax, Paterson said, "Our feeling right now is that people in the suburban areas—we want to get back here and start talking about mandate relief and help with school districts—and a gas tax on top of the problems that people are having that live in those areas, I think, is out of the question. And if somebody raises it I'll talk to them about it, but, I couldn't go along with a gas tax to be honest with you."
I asked Paterson how long it might take to reach an agreement.
"Until you have an agreement, you really don't know how long it's going to take," he said.