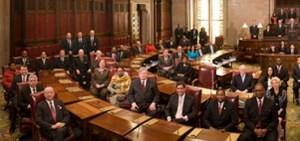 ALBANY—With fireworks not normally seen in committee hearings, the Senate Elections Committee just voted along strictly partisan lines to approve a bill that would require a voter referendum on the repeal of term limits.
It was expected to pass the committee, but is not necessarily expected to get much further.
Republican State Senators Tom Morahan, Joe Griffo and Tom Libous voted against the bill, with Libous leading the charge and raising questions. He claimed that there was not enough time to pass the bill and hold a referendum by May.
"The bill is poorly drafted and it should be specific to New York City," he said.