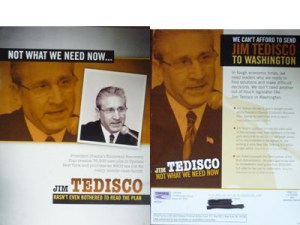 ALBANY—A few weeks ago, an independent poll showed Scott Murphy within 12 points of Jim Tedisco in the race to succeed Kirsten Gillibrand in Congress.
I ended up breaking the news of that poll to Assembly Majority Leader Ron Canestrari, whose district borders Tedisco's. His eyes widened.
"That's going to turn some heads," he said.
Thursday, a poll showed Murphy within four. And a lot more heads are turning, as the race turns into a potential narrative-shifter with national implications.
"We're all-in," said Representative Steve Israel, who screened candidates in the district on behalf of the Democratic Congressional Campaign Committee. (The DCCC initially wasn't too enthusiastic about the race.)
I got Israel on the phone after a meeting he had with White House Chief of Staff Rahm Emanuel. Israel said there is "obviously strong interest by the White House in making sure that we have another Democrat to support economic development and job creation in New York State."
The committee has several commercials airing in the district, but neither Israel nor a spokesman for the committee would put a firm dollar figure on what was being raised or spent on the race.
No word either on an Obama visit to the district, or a visit by House Speaker Nancy Pelosi.
But Senator Kirsten Gillibrand has visited, and has recorded a commercial for Murphy, Israel said. There was a fund-raiser last Wednesday at the DCCC's Capitol Street headquarters attended by Murphy, Pelosi, House Majority Leader Steny Hoyer (he came to stump for Murphy) and other members of the New York delegation. David Paterson has reportedly scheduled fund-raisers for Murphy, too.
Also, an avid reader from Clifton Park [ed. note: Jimmy's mother lives in Clifton Park] sent along the above mailer, which was sent by 1199 SEIU to households around the district. Lots of unions—including 1199—are behind Murphy, but 1199's independent expenditure wasn't initially expected.
"We're excited about Scott Murphy," Kevin Finnegan, the union's political director, told me. (He also sent along a higher-resolution PDF file of the above mailing and another that has been sent.) "Our initial assessment was that it was going to be a very difficult race given the name recognition of the Republican opponent. But after a few weeks of watching the campaign develop, it's clear that Scott has a chance to win, and we want to help make that happen."
Finnegan declined to say how much 1199 was planning to spend.
Tedisco alluded to the outside involvement Wednesday as he attacked one of Murphy's negative campaign ads. (Both sides are running them.)
"It's going to be a tight race, it's going to be a good race," he said. "Anytime you're going against a group that's got millions of dollars—and Nancy Pelosi has millions of dollars—to have them rewrite your image and try to attack you as someone who's not been productive. Look, I've never been a shrinking violet. If anybody thinks that I'm just a part of the Albany establishment, they're really not looking at my record and they're trying to distort that record."
R.N.C. Chairman Michael Steele said the race would be a "battle royale" when he visited Tedisco in the district. He, too, has raised funds for the race, and his fate reportedly hinges on the outcome. Tedisco was asked whether the support he has received has been equal.
"I don't know exactly what the numbers are, but I don't think so," he said. "I'm raising a lot of my own money."