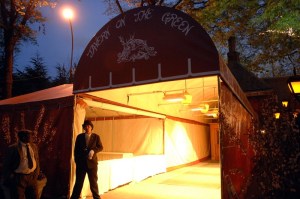 A number of prominent restaurateurs (or their reps) turned out on Thursday morning at a meeting for potential bidders on the lucrative contract to operate the iconic Tavern on the Green in Central Park.
"Some big players," noted dapper Capitale owner Seth Greenberg, as he peered around the room at the competition on hand.
Smith & Wollensky founder Alan Stillman and Boathouse owner Dean Poll also attended, alongside representatives of Giuseppe Cipriani, Donald Trump and Danny Meyer's Union Square Hospitality Group, among others.
Michael Desiderio, the restaurant's current chief operating officer, was there on behalf of the late Warner LeRoy's family, which has operated the historic 25,000-square-foot eatery since 1974. The famous venue annually ranks among the top-grossing independently run restaruants in the country, earning more than $37 million in 2007. It is also a very costly and massive operation, with up to 500 employees, many of whom are unionized, which some operators view as an impediment.
The LeRoys' current license agreement with the Parks Department expires on Dec. 31, and the city is expecting big things from whomever is awarded the next 20-year contract, including substantial renovations to the building and a much larger chunk of the profits.
The LeRoys have vowed to outbid any competitor for the space. "Based on the amount of people who've walked through [the restaurant] and the amount of people who've shown up [to Thursday's meeting] I see somewhere between five to six bids," said Mr. Desiderio, who summed up the field of potential proposers thusly: "Some of it is just gawking and some of them will do their due diligence and weed out whether it makes sense as a business."
Mr. Desiderio pointed to Mr. Meyer and Mr. Stillman as particularly strong contenders. "I think these guys are all great restaurateurs and I think they're going to do their best to set forth a bid."
"I'd hate to lose a beauty contest," said Mr. Greenberg. "But we think it's worth it. … We're deep into this and I'm very excited."
Bids are due on May 1. Officials hope to award the new contract in July.