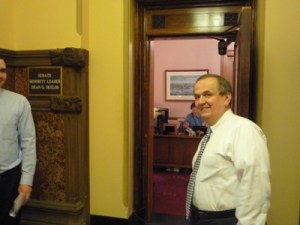 ALBANY—The Assembly is officially in session, and right now Ways and Means Committee Chair Denny Farrell is presenting the budget.
On the other side of the Capitol, after wrapping up a session, a few Democratic state senators lingered in their chamber and discussed the Spanish word for shoes. The chamber does not have the quorum needed to hear budget bills because the chamber's Republicans have not yet taken their seats.
"We're reviewing information we just got this morning," said Republican State Senator George Maziarz. "I would suspect it's going to be at least an hour."
I asked Maziarz if he felt Republicans should be blamed for delaying the passage of an on-time budget—by statute, a spending plan should be in place by midnight tonight.
"So they would want to vote on something they never read?" He said. "That's not something I would do."
Democrats in the Assembly say they will pass the budget today—regardless of what happens in the Senate. You can watch them live here.