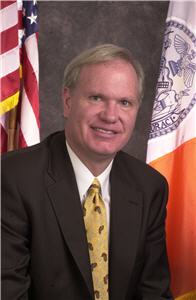 Long-shot mayoral candidate and City Councilman Tony Avella got the same number of votes as his not-so-long-shot primary opponent, City Comptroller Bill Thompson, among voting members of a Brooklyn Democratic club last night.
The very left-of-center Central Brooklyn Independent Democrats decided to make no endorsement in the mayor's race until May, according to the club's president, Lucy Koteen.
There were about 40 voting members, she said, and Avella and Thompson split them evenly.
It's worth noting that Anthony Weiner, who attended the event, was also on the ballot, but according to Koteen, "He didn't get too many votes."
She chalked it up to the fact that it's unclear if he's still running.
The club did, however, agree on endorsing City Councilman John Liu for city comptroller (Koteen said David Weprin earned a "strong second place") and Norman Siegal for public advocate.
Koteen declined to say who came in second place.