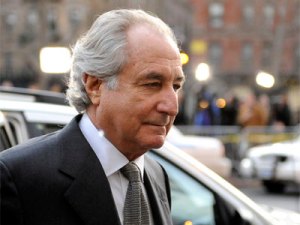 As you probably already know, Bernard Madoff is heading to jail.
The New York Times' Diana B. Henriques and Jack Healy report that Mr. Madoff pleaded guilty to Judge Denny Chin this morning at United States District Court in Manhattan. Taking "breaking news" to new heights, The Wall Street Journal and its News Corp. sister channel, Fox Business, is streaming live video from outside the courthouse. The New York Daily News—whose owner, Mort Zuckerman lost some of his foundation's funds with Mr. Madoff—offered the headline: NO MERCY. Bloomberg is reporting that Mr. Madoff will receive a life sentence.
Mr. Madoff's ponzi scheme has been extensively covered since the story broke December 2008. Mr. Madoff appeared on the cover of Condé Nast Portfolio in March, as well on the cover of New York magazine on March 2. The April 2009 issue of Vanity Fair features a story on Mr. Madoff by Mark Seal, and Tina Brown and Barry Diller's Daily Beast has been running a series of columns by one his victims, the artist and writer Alexandra Penney. Mr. Madoff has become so well known that he was the subject of a Saturday Night Live skit earlier this year.
At the end of February, Nobel Peace Prize winner Elie Wiesel, whose foundation also lost millions with Mr. Madoff, told an interviewer that Mr. Madoff is "one of the greatest scoundrels, thieves, liars, criminals."