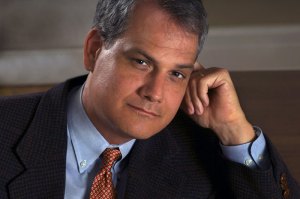 The biographer Blake Bailey knows there's nothing more invigorating in the world than a proper comeback story, and he's hoping that pretty soon he'll have a new one to tell about John Cheever, a writer he believes has been denied his rightful place in the canon of postwar American literature.
Mr. Bailey has just published a long, intense biography of Cheever with Knopf, concisely titled Cheever: A Life, and has edited two handsome volumes of his collected works issued earlier this month by the Library of America. Between the two publications, Mr. Bailey hopes to provoke a full-scale revival of interest that will acquit Cheever of the charge that he was merely a skillful but conventional writer of New Yorker short stories, and to restore him to the level of esteem he enjoyed toward the end of his life, when his final novel, Falconer, landed him on the cover of Newsweek, and a best-selling collection of his finest short stories was published by Knopf and awarded the Pulitzer Prize.
"Cheever was pretty much sui generis and that's one of the reasons that posterity has not been kind to him," Mr. Bailey said recently. "As I say in my book, it's very hard to fit Cheever into a niche. He's very chameleonic."
Robert Gottlieb, who compiled the prizewinning story collection while serving as Cheever's editor at Knopf, said in an interview that some of Cheever's work is closer to magic realism than anything else. "The accepted, easy version of Cheever was that he was a chronicler of suburban life," Mr. Gottlieb said. "But none of the novels are that. The Wapshot books are one kind of different thing, and Bullet Park and Falconer are another kind of different thing. But none of them is The Man in the Gray Flannel Suit. Yet that's how he was thought of, partly because The New Yorker was that kind of magazine."
Mr. Gottlieb went on: "He's an odd figure because in his day, going back to before I was involved with him, everybody knew he was important and good. But where to place him? Where did he rank? Was he up to Bellow? Was he a gentile Roth? How did he compare with Updike? … When he died, as often happens, his fame sort of slid away with the obituaries. The stories went on selling in Vintage, but I think all of us had a nagging feeling that attention wasn't being paid to a major American writer."
In the comeback story Mr. Bailey is hoping to orchestrate, Cheever is rescued from obscurity by a motivated, ambitious biographer whose rigorous and serious study of the writer's life and work compels literary scholars to reassess him and finally put him on their syllabi alongside certified postwar giants like the ones Mr. Gottlieb mentioned.
It's a feat, but Mr. Bailey actually succeed in pulling off something similar once before, with 2003's A Tragic Honesty, his definitive biography of Richard Yates, another American writer who had come in death to hold the reputation of a conventional craftsman who was popular in his time with middlebrow readers but irrelevant today. Mr. Bailey's biography, broadly praised to the heavens by critics upon publication, unmistakably contributed to a resurgence of interest in Yates' work and led, however indirectly, to his 1961 novel Revolutionary Road being adapted into a Hollywood film and subsequently appearing on the New York Times best-seller list.
"I don't want to toot my own horn, but what's happened to Richard Yates is simply incredible," Mr. Bailey said recently. "When I first proposed the biography [in 1999] every single one of Richard Yates' books was out of print, even Revolutionary Road. … Suddenly there are a million copies of Revolutionary Road in print. So that's a pretty full-blown Yates revival."
After turning in the Yates manuscript to his editor in 2002, Mr. Bailey "dithered around" in search of a new project, having decided that he definitely didn't want to write another literary biography. The story of how he ended up doing just that begins over lunch at a French bistro in Westchester, when John Cheever's son Ben spotted a newspaper editor he'd been writing for with a galley copy of A Tragic Honesty. That editor, FiveChapters.com founder Dave Daley (who serialized the early short Cheever story "Of Love: A Testimony" on his Web site in February), recommended the book to Ben, who in turn brought it to the attention of his wife, New York Times book critic Janet Maslin, and interviewed Mr. Bailey on his cable access talk show. A few months after a glowing review of the book by Ms. Maslin appeared in The Times ("Blake Bailey's great, perceptive, heartbreaking Yates biography is a landmark event"), Ben invited Mr. Bailey to dinner, and let him know he'd be happy if the author did for his father what he'd done for Richard Yates.
AFTER SOME INITIAL resistance—he had it in his head that he didn't want to write about someone who'd already been written about, and a Cheever biography had already been published, in 1988—Mr. Bailey agreed to the project, and before long, he was conducting interviews and combing through the astonishing amount of material that Cheever left behind in his personal journals.