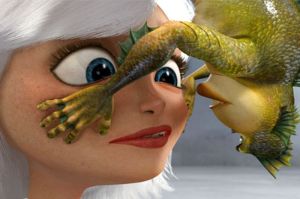 Like the 50-foot tall woman (actually 49 feet, 11 inches) that Reese Witherspoon voices in Monsters vs. Aliens, the box office over the weekend was particularly huge. The record setting 3-D release of the animated film smashed its way to the top spot with $58.2 million, while fellow newcomer, The Haunting in Connecticut, wowed with a very strong performance in the runner-up position, despite being universally reviled. In a related story, Knowing is a hit. Here's a breakdown of the top five at the box office.
1. Monsters vs. Aliens: $58.2 million ($58.2 million total)
If the Obama Administration wants to find the quickest way to save the auto industry, maybe they should start looking into 3-D cars. Nearly 43 percent of Monsters vs. Aliens' total weekend gross came from its showings on just over 2,200 3-D screens—it's per screen average at those sites clocked in at $11,700; on regular screens, it averaged only $4,780. That technological "gotta see" factor, coupled with the upcoming release schedule, has us thinking Monsters vs. Aliens will end up being one of the top 10 hits of the year. Put it this way: the only other kids-related movie coming out between now and Pixar's Up on May 29th is The Hannah Montana Movie … and that isn't even animated! Jeffrey Katzenberg is probably walking around the Dreamworks offices today constantly shouting "ka-ching" at anyone within earshot.
2. The Haunting in Connecticut: $23 million ($23 million total)
Apparently, people really wanted to see what that kid in the poster was throwing up. More shocking than the $23 million bow for a movie starring Martin Donovan and Virginia Madsen is that The Haunting in Connecticut was the choice du jour for ladies—according to exit polls, 62 percent of the audience was female. Further proof that women have a higher tolerance for pain than men may not be needed.
3. Knowing: $14.7 million ($46.2 total)
Despite our protestations, it looks like people are actually seeing Knowing, though we still haven't met one of them. Maybe the apocalypse is truly here after all. If we start seeing a Tree of Life sprouting up in the middle of Times Square, we're going to get worried.
4. I Love You, Man: $12.6 million ($37 million total)
Legs alert! I Love You, Man had the smallest decline in the top 10, dropping only 29 percent from last weekend; it seems poised to carry its good word of mouth far into the reaches of spring. The number to shoot for with these Apatow-Lite films is around $65 million—both Forgetting Sarah Marshall and Role Models landed right around there, and I Love You, Man should probably do similar, if not better, business.
5. Duplicity: $7.5 million ($25.6 million total)
When people point to the subpar gross of Duplicity and say that Julia Roberts has lost her magic, don't believe them. There are two problems with the film, and neither of them has to do with America's Sweetheart. For starters, Duplicity is sneaky bad and gets progressively worse as it plods along to an unappealing denouement (hence the steep drop from this weekend to last—bad word of mouth). Second, and more important, is the presence of Clive Owen. Not counting The Bourne Identity, where his role amounted to a little more than a cameo, the only films he's starred in that grossed over $70 million were Sin City and Inside Man. And, more often than not, he routinely underwhelms at the box office—see: The International, Children of Men, Derailed, Closer and King Arthur. We hate throwing the term "box office poison" around, especially with regards to an actor we so admire, but, in this case, the shoe fits. Face it, Hollywood, Clive Owen is not a movie star.