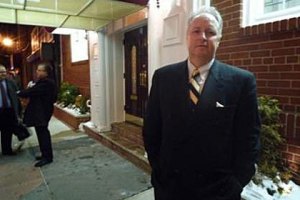 Here's an interesting note from last night's meeting in Brooklyn where county Republicans voted to let Michael Bloomberg run for re-election on the G.O.P. line, even though he's not a Republican anymore.
The chairman of the Brooklyn Republicans, Craig Eaton, voted against a motion that would have delayed the county's vote on Bloomberg for another month.
That surprised me, since Eaton and the other chairs haven't finished screening the other potential mayoral candidates, like John Catsimatidis and Tom Ognibene, or someone else who may come out of the woodwork.
"I expressed my personal opinion that at the end of the day we're all citizens of the City of New York. And I think in a lot of ways, the mayor is well-suited to carry on the business of governing the City of New York over the next four years than any of his Democratic rivals," Eaton told me after the meeting.
That's a slightly different take than Eaton gave immediately after the Republican chairmen met privately with Bloomberg last month.
After that meeting, Eaton said, "The most important thing for us is how we are going to rebuild and grow the Republican Party and who is the best candidate to do that." He went on to say, "We stand on our principles."
Also expected to back Bloomberg is John Friscia of Staten Island and possibly Jennifer Saul of Manhattan, who, unlike their counterparts in The Bronx and Queens, haven't continued to talk about the mayor.