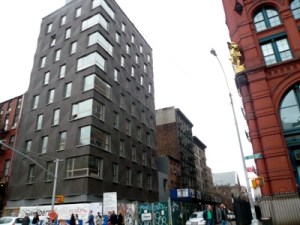 On the southwest corner of the intersection of Mulberry and Houston streets, a dapper golden toddler presides over the flow of cars and people, perched on the handsome Romanesque Puck building. For the last 20 months, his view has included the rising 290 Mulberry, a new brick creation that shares nothing besides a building material with his own resting place.
The brown facade of SHoP architects' nine-unit condominium is both jagged and undulating, with subtly articulated bricks that make the surface look like a bubbling pool of mud. Offset windows stand in contrast to its 19th-century neighbor's rows of ordered arches.
Pedestrians rushing along Houston often stop for several minutes to stare in confusion.
"It's sort of ugly, and yet, it's sort of interesting, too," said New Yorker Nina Kaminer. "You have to really look closely at it in order to appreciate it, because at first glance it's just an ugly brick building."
Others aren't so charitable. "It's really awful. It looks like a prison. I'm trying to find one good thing to say about it," said Ranu Nandy, looking across Houston.
The 13-year-old SHoP has amassed a portfolio of convention-busting buildings, from the zinc-panel Porter House in Chelsea to a design for the South Street Seaport's Pier 17 reminiscent of toothpick structures from elementary school. This time, they were working within zoning constrictions that dictated the facade be constructed "predominantly of masonry." The SHoP solution: high-tech molds into which bricks were set at precise angles, creating non-structural panels that lead architect Corie Sharples calls a "wrapper."
"We really wanted to think of this as a modernist tower with conceptual cloak," she said—which explains why the back of the building is bare concrete, and a gray penthouse unit, priced at $7.5 million, pokes out above. It's also a little cheaper; the modest $15 million design and construction budget went largely into building over a subway tunnel. The bottom-floor retail space is earmarked for a bank.
When Cardinal Investments bought the site in 2005, they knew they wouldn't be able to do the typical glassy condo confection; brick isn't exactly the modernist mode. But, reasons Cardinal principal Trevor Stahelski, you work with what you've got.
"Instead of being bummed out, I think we've built the most interesting brick building that's been built in New York in over a decade," he said. "[SHoP] was able to embrace the rule, rather than fighting it."
DORIS DIETHER, THE CRUSADING co-chair of Community Board 2's landmarks committee who still wears red lipstick at 80, thinks SHoP may have stretched the rules too far. In her Waverly Street basement apartment, she reaches up for a huge binder of zoning regulations and pages through it for the section on the Little Italy Special District, which she helped create as a champion for tenants' rights and historic preservation in the 1970s.
"I don't think that's what they had in mind," Ms. Diether scowled, when The Observer showed her pictures of the fantastical 290 Mulberry. She thought they might have misconstrued the word "masonry"; she looked in the dictionary, and the definition does indeed include bricks.
"You're trying to make your building look like it belongs there, not like it comes from outer space or something," she protested.
Ms. Diether's understanding of contextual zoning—the bane of developers like Donald Trump, who bemoaned the requirements in a 2001 editorial—could be characterized as "originalist." But historic preservation folks don't always agree, and Ms. Diether's co-chair, Sean Sweeney of the Soho Alliance, has a different take.
"I like it!" he said, musing at the unflat facade. "It's like thousands of little grids. Honeycombed maybe? That's so brilliant."
The Little Italy Special District isn't a landmarked historic district like Greenwich Village and parts of Noho; its rules are more basic. But even those strictures, said Columbia architecture historian Andrew Dolkart, can put a damper on innovation—new construction in the area has tended toward the bland.
"I love the architecture of the past, but I love architecture, and I want to see the architecture of today as creative as the architecture of the past," he said. "So what could be more appropriate than doing something interesting with brick?"
SHoP's approach reminded Mr. Dolkart of the German and Dutch expressionist brickwork of the 1920s and '30s, of which the Western Union Building on Hudson Street is a rare American example. Architect Henry Smith Miller, who called 290 Mulberry's "fusion of rustication with fabrication innovative and extraordinary," likened it to the brutalist quilted surface of the Fashion Institute of Technology on West 27th (to which SHoP is building an addition).
Architect Sam White, of Platt Byard Dovell White, likes the "deliberate ambiguity" of the elevations and calls SHoP "serious, very, very talented architects" with a "flair for the unusual." But he still has reservations about that pre-cast facade.
"There is a risk in using brick in this way, in that it may not have all the beauty you associate with hand-laid brick," he said. "The problem may be in bringing a set of expectations to that material that fails to recognize what that material actually is."