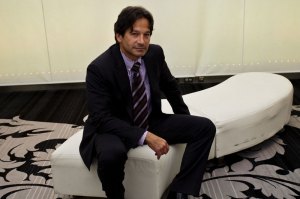 Location: You cut your teeth in hospitality in Boston, owning 10 nightclubs by the time you were 30. You make me feel lazy.
Mr. Greenberg: [laughs] I started young. I was a promoter in college, graduated, developed my first club and, to make a long story short, just grew a nightclub company. I had become known in Boston as the 'Euro Czar' because, as a student, I was friends with all these European kids. They were very supportive of my clubs. … My office worked like a concierge service, if you will, for a lot of these people.
Was there a drawback to being known as the 'Euro Czar'?
I think it could carry certain negative stigmatisms as well as positives. It is what it is. But, in that European theme, I opened a great restaurant called Mistral. It's really a favorite restaurant of the high-end dining community in Boston, a great three-to-four-star restaurant which really launched the next phase of my life. From that, I co-developed a hotel in Boston nine years ago. Then I came to New York looking for a restaurant-hotel venture.
So what made you instead want to do a banquet hall on the Bowery?
I didn't, really [laughs]. I was looking for a restaurant space. I really wanted to develop a hotel. But, after September 11, there was no financing available. Then the opportunity came up for Capitale [40,000 square feet of event space in the former Bowery Savings Bank], and I jumped on it. It's a magnificent building. It's a landmarked building. It has incredible architecture. I just said, 'This could be home for a little while.'
And then last year you opened espace, a 20,000-square-foot event space in Joseph Moinian's Atelier building.
We really needed to grow. I mean, it took a little time for us to get comfortable with what we were doing and really develop a reputation and develop an organization and a team that got comfortable at service. At a certain point, we realized we're good at this. We do this right. We get thank-you letters from all our clients. They say to us, 'Why don't you have another place?' So we did. [Mr. Moinian] wanted me to open a Mistral here. And I said I won't do a Mistral but I'd like to do an events space. … It took a little time and we made a deal.
Are New Yorkers still throwing enough parties to keep you busy these days?
I'll tell you, believe it or not, at Capitale, we're actually ahead of last year, revenue-wise, as a running total for sales for the year.
Really? What do you attribute that to? Fashion Week?
We didn't get anything from Fashion Week.
Nothing?
Nothing at Capitale. We had some shows booked here [at espace]. Derek Lam booked here. We're very strong on the social side. Weddings at Capitale—we did 60 weddings last year. I think we may do more this year. We're very good with weddings. There's still a lot of charity functions coming through. We're getting a lot of film stuff, film and TV, as a location. So there are some industries that are still booking. Just generally speaking, the corporate business is way off, but the social business is still pretty solid.
One thing this climate has fostered is this abundance of available spaces. Are you looking to take advantage and expand your banquet business further in New York?
I don't really want to sign more leases. I would rather be developing real estate, putting the hospitality program into this real estate, marketing the real estate, like I'm doing in Miami. My friend has a site between Fourth and Fifth and Ocean Drive. He had a development in place to build a few towers. I looked at the site and said, 'You know, instead, I think we should just keep what we have, redesign the existing building, redevelop the inner courtyard and build big rooms and a beautiful new restaurant and have a beautiful 100-room, five-star boutique resort. Maybe get a great flag involved or keep it independent and manage it ourselves.' He loved the idea.