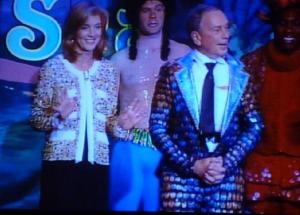 Caroline Kennedy made a surprise appearance in Michael Bloomberg's skit at this year's Inner Circle show, the annual roast of city politicians and City Hall reporters.
In the skit, taking after The Little Mermaid, Bloomberg was running to be "mermayor" of the underwater city of "N.Y.Sea."
That is, until he learned term limits were lifted only in the above-ground New York City. Learning that, Bloomberg sought a replacement "mermayor" candidate, and it was Caroline Kennedy.
Kennedy, wearing a sequined top and dark pants, said she'd run if only she could do "lots" of campaigning and interviews—a reference to her disastrous bid for U.S. Senate.
Bloomberg then deadpanned "or not."
Later, onstage, Bloomberg said the press was looking forward to covering her administration.
Just then, the theme song to Jaws was heard.
The crowd laughed at that, too.
UPDATE: Here are some more pictures from the show.