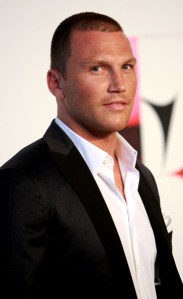 Pesky New York Rangers forward and former Vogue intern Sean Avery is getting into the bar business—and no, the new nightspot will not be called "Sloppy Seconds."
The popular, if somewhat controversial, 28-year-old Broadway Blueshirt is partnering with Beatrice Inn proprietor Matt Abramcyk in opening an intimate bar and restaurant called Warren 77, located at 77 Warren Street in Tribeca.
The pair have been friends for some time. Mr. Abramcyk recently told The New York Times about his experience facing off against the Rangers star on a backyard rink at the Westchester County home of Tim Robbins and Susan Sarandon.
Mr. Avery is often spotted at Mr. Abramcyk's various hot spots. He and teammate Brandon Dubinsky celebrated the Rangers' 4-1 victory over the rival Philadelphia Flyers on March 15 at Mr. Abramcyk's other bar, Smith & Mills, on North Moore Street.
Mr. Abramcyk has described the new venture to Daily Transom as a "sports bar meets country club."
The cozy 1,260-square-foot venue will have six tables seating up to 36 in the restaurant area and five tables seating up to 14 in the bar, according to papers filed with the local Community Board 1, which has approved the venue's liquor license. It will be open from 5 p.m. to 1 a.m. on weekdays, closing at 2 a.m. on weekends.
Mr. Avery is not the first pro hockey player to parlay his skills and name recognition into the hospitality industry. The fashionable forward follows in the footsteps of fellow National Hockey League stand-outs Chris Chelios, owner of Cheli's Chili Bar in Detroit, and Shayne Corson, who previously opened a sports bar, called Shayne's 27, in Montreal. (The fictional Stan Mikita's Donuts, meanwhile, only existed in the Mike Myers and Dana Carvey 1992 comedy Wayne's World.)