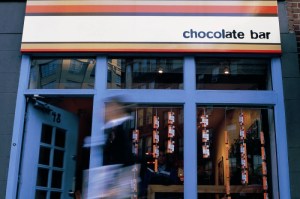 Chocolate Bar owner Alison Nelson's strange saga to return to her beloved West Village is finally over.
Ms. Nelson has signed a new 10-year lease for 450 square feet of retail space at 19 Eighth Avenue. (Seriously this time; The Observer has seen the actual document.) She plans to reopen the trendy sweets shop on April 28.
The new store is located just down the street from her original Chocolate Bar location, which closed last spring—and virtually next door to the hallowed House of Cards & Curiosities, where Ms. Nelson previously thought she was moving.

That was before House of Cards owner James Waits (and his lawyer) informed The Observer he had no intention of vacating the location. Building owner Beth Bogart later confirmed that she had been in talks to lease that space to Chocolate Bar and blamed the mix-up on a "miscommunication" with Mr. Waits.
Now, the two rival store owners will be neighbors! Awk-ward.
Ms. Nelson said she is planning to recycle the old shelves from her original location at 48 Eighth Avenue and even resurrect the old espresso machine.
She has also hired a new executive chef, Gustaf Mabrouk, who is creating an exclusive line of truffles, artisanal chocolate bars, hot chocolate and mallows.