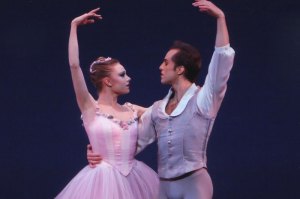 Why do so many of us still go obsessively to the New York City Ballet? Not, alas, to see Balanchine danced fully and expressively; it happens on occasion, but not nearly often enough. Not, certainly, for the procession of new works—"novelties," as they're called in the ballet business—that crop up every season and, with a very few exceptions, quickly die the death (although once in a while they rise from the grave, take a quick look around, then sink back into deserved oblivion).
No, the fascination lies in watching the progress—or lack of it—of the ceaseless procession of talented dancers who emerge from the School of American Ballet and try to break into the repertory. And in tracking, step by step, the arc of each major career: a Farrell, a McBride, a Kent; an Ashley, a Nichols, a Kistler; a Villella, a Boal, a Woetzel. It's like following your favorite characters in an endless saga novel. We spend 20, 25, 30 years with these characters: know them, love them, regret them. And watch the new boys and girls turn up and bravely try to replace them. (Let's turn a forgiving eye on those who misfire, and a sorrowful eye on those whose large talents are defeated by circumstance: illness, injury, failure of nerve or ambition.)
Today the company is in far better shape than it was, say, 15 years ago. There's no one genius—no Farrell, for instance—around whom the whole enterprise seems to revolve; no one whom you have to see in every role and every performance. But there's a very high level of talent spread across a score of dancers that demands, and repays, attention. I may, for example, find pint-size Megan Fairchild irritatingly cute, all clever footwork and no depth (her busy performance in the central role in Balanchine's Divertimento No. 15 was so uncommanding that this great ballet had a hole in the middle), but I find Janie Taylor stunningly expressive in everything she does.
The disaster of Darci Kistler's recent years (she was appalling in the final section of Vienna Waltzes) will soon be forgotten or at least forgiven when her announced upcoming retirement takes place and we're free to celebrate her youthful glory. Too bad, though, that Peter Martins (her husband), clearly desperate to find ways to present her onstage, had to revive his own vacuous Papillons and turgid and pretentious Stabat Mater to accomplish it.
The admirable Wendy Whelan, who's been a rock of strength these past 20 years, remains at her best in those works created for her by Christopher Wheeldon (After the Rain) and Alexei Ratmansky (Concerto DSCH). In classic Balanchine roles, she's less convincing. But hasn't she done enough for the company to be spared a return to the overwrought and worthless Slice to Sharp, City Ballet's obligatory Jorma Elo ballet? Just about every other company has one, so why not NYCB, too? Can you tell them apart? Is your Jorma bigger than mine?
At the top of the heap these days is Maria Kowroski, that magnificent beauty who remains an enigma, at least to me. Her body, her legs, her face promise so much, and often she delivers—elegant and persuasive in Monumentum/Movements, for instance. But there's something missing. Her first appearance in Chaconne was tentative and unrealized, certainly not helped by her partner, Sébastien Marcovici, who looked ungainly and danced ungainly. Her Swan Lake was gorgeous to look at, but there's a lack of imaginative investment in the steps. Is it failure of confidence? She has it as Titania, she has it as the Stripper in Slaughter on Tenth Avenue, she's growing it in "Diamonds." Unfortunately, she's so embedded in the Farrell roles that we expect her to be Farrell.
It's the young crop that's really exciting. Tiler Peck was not only brilliant in Coppélia but conquered the fiercely exacting Theme and Variations with seeming ease. Ashley Bouder, out with an injury for too much of the season, is a phenomenon of ebullient technique. Sterling Hyltin has charm and lightness and attack; she always pleases. The large-scale Savannah Lowery is developing a lovely musicality, and she never stops working. She shouldn't, however, be cast as "Sanguinic" in The Four Temperaments, which demands clarity, decisiveness, gleam. "Sanguinic" is Maria Tallchief, she's Merrill Ashley. Lowery's quality is plushier. And it's unfair to her (and us) to put her in front of a row of short corps girls—she towers over them, like Gulliver among the Lilliputians. But that wasn't Balanchine's point.
And then there's Sara Mearns, eating up the repertory. I still have mixed feelings about her, mostly about the look of her upper body, but her dancing is deeply appealing, and she has remarkable range. She could do nothing for Peter Martins' Chichester Psalms, the featured ballet of the opening-night gala, but then no one could do anything for this interminable dud. Once the Psalms were re-interred, her season was book-ended by two radically dissimilar roles. She was remarkably fresh and touching in the "Tales from the Vienna Woods" section of Vienna Waltzes, very different from the original European sophistication of Karin von Aroldingen but wholly valid—and helped by her partner, the utterly reliable and appealing Tyler Angle, brother of the equally reliable and appealing Jared Angle. And then, at the tail end of the season, she let rip as Slaughter's Stripper—juicy and sexy and vivid. Fittingly, her Hoofer was Robert Fairchild, for whom this was a breakthrough season. He not only dances full out, he's consistently expressive—he knows how to bring steps alive, and his concentration doesn't falter.
Questions for Peter Martins: When is he going to give up the idea that Abi Stafford, a pleasant if bland dancer, is a potential ballerina? And when is he going to acknowledge that Teresa Reichlin already is one?