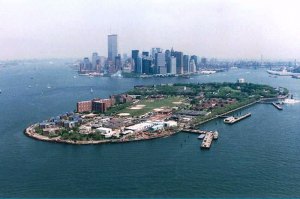 In the mid-1990s, park advocates and government officials devised and employed what they thought was an innovative, win-win strategy to build a series of new parks: split the cost and control equally between the city and the state. With equal claims for bragging rights by the mayor and the governor, money would stream in from two separate pots, clearing the way for new projects to quickly sprout.
Fast-forward to 2009, and the reality is less rosy than once imagined. Two park projects with this structure, Brooklyn Bridge Park and Governors Island, are substantially underfunded and their development timelines are sluggish.
Mayor Bloomberg wants to end the partnerships with the state on both altogether. While he was rebuffed on both this budget season—the state pledged funding for Governors Island this week, after initially not having a line for it in the state budget—a spokesman for the mayor said the city will continue to press the issue.
So with the slow progress and bitterness all around, is it safe to chalk up these park partnerships as a failed experiment?
The jury's still out, advocates of the projects say. While Brooklyn Bridge Park and Governors Island—which, combined, could ultimately demand well over a half a billion dollars in investment—have spawned frustrations, the allure of having two funding sources is quite attractive, possibly outweighing the inevitable headache of dealing with two separate governments at once.
"By making the state and the city partners, each one of them has only half the load to carry," said Al Butzel, longtime president of the advocacy group Friends of Hudson River Park, a city/state-controlled park started in the mid-1990s that tends to be viewed more favorably.
The difference in Hudson River Park, by Mr. Butzel's telling, was the strong commitment of money upfront by both sides. While getting equal money from the city and the state for the final stages of the park is now proving difficult, the park is now substantially finished, so its completion seems more a matter of when, not if.
By spreading political ownership, the city/state partnerships also seem to give projects a better chance of continuity over multiple administrations, as an individual mayor or governor may support a project, but the next administration could simply scrap plans as priorities change.
"I say to the people in City Hall that I trust you, and I trust your successor," said Ken Fisher, chairman of the advocacy group Governors Island Alliance, "but I don't trust yoursuccessor's successor."

ebrown@observer.com