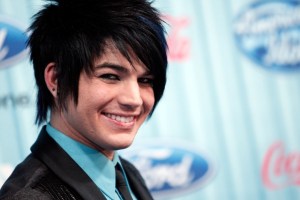 Listen, I realize I'm about seven years too late when it comes to being obsessed with American Idol. Like, way behind the rest of the country (just like I was with cell phones, microwaves and the Internet!). Also, I know I might be the only Idol-obsessive that started watching the show because of a certain smutty dream about dreamy meany English judge Simon Cowell being my boyfriend and judging me (it explains quite a lot, actually), but there it is. I'm hooked. I think about it even when I'm not watching it. And you know what? I don't care who knows it anymore.
It started last year during the reign of David Cook. I think I thought I was being ironic. This is how the show gets you—like, oh look how silly this all is! I can't believe how into this show people are! But this year, I looked around and saw that I was watching "The Idol" all alone in my apartment, no one there on the couch beside me to laugh at Ryan Seacrest, and I had the epiphany that there was absolutely no irony whatsoever left for me to hide behind.
The good news is that when you decide to give up and join the rest of America in loving American Idol, you start to discover just how much is out there for you. And hey, how often can us Jewish homo-loving commie New Yorkers feel so in step with the rest of the country? There's a kabillion articles and random Web sites (including DialIdol, which predicts who is going home based on some sort of scientific study of busy signals, and boasts a 97 percent accuracy rate for last year!) and Entertainment Weekly's totally awesome exhaustive coverage. For me, there is no better thing in the world than the Television Without Pity recaps, which never fail to help me think about just what is good or bad or just plain bananas about this show. Jacob Clifton is just about my favorite person on the planet these days thanks to his incredible posts—here is a recent example when he attempted to make sense of this season's biggest enigma, contestant Adam Lampert and his rendition of "Ring of Fire" last week:
"It's sort of like what if that movie Queen Of The Damned were not only real, but interested in slipping you a roofie and selling you on the black market. He screeches out some kind of artsy orgasm and nearly pulls his shirt up over his head, and then just starts wailing like some forgotten homosexual Greek myth about sailors that never come home. It's… Totally awesome. Of course. I feel weird and crazy, and entertained. Those sudden register shifts used to freak me out with Jeff Buckley too, like, "And now I am a lady… And now I am a dude again." I can't imagine how uncomfortable that must have been for lots and lots of people."
Okay? How could anyone not want to watch something that could inspire all that? So, this is where I'm at and my cooler-than-thou friends with their real lives and hopes and dreams are a little disappointed in me. I don't care. I'm glad that big oil-rig dude went home last night! I hope Simon continues to draw little moustaches on Paula! And mostly I'm rooting for that dramatic weirdo, or that little redhead with the big pipes, to win. I suggest watching. You'll see!