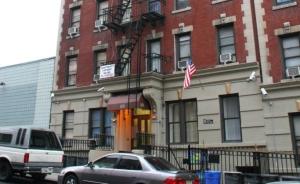 Controversial landlord Pinnacle Group has shed one of its uptown properties for $12.5 million, according to city property records.
A group called Latham Properties, affilitated with the budget Latham Hotel on East 28th Street, bought 169-175 East 101st Street, a 119-unit apartment building, on February 26.
The buyer could not be reached for comment. The seller had acquired the building in 2004 for $9.4 million.
Pinnacle Group, which, according to a July 2007 New York Post article titled "'Slum Bum' Hit with RICO Suit," owns 420 buildings in Manhattan and the Bronx, has been the subject of repeated attacks by housing advocates for its tactics in turning affordable units into market-rent apartments.
According to a 2006 Village Voice exposé, a community forum on Pinnacle's alleged abuses attracted 200 residents:
One by one, residents accused Pinnacle of aggressive court tactics—attempts to violate tenants' succession rights, for example, and to evict for bogus reasons. They complained that the company fails to make repairs, or delays repairs, or does shoddy improvements to raise rents beyond regulated limits. Mostly, they blasted the real estate giant for moving into their neighborhoods and moving them out.
In January of 2008, Pinnacle hired Eastern Consolidated to market a portfolio of its properties, hoping to get more than $70 million for 384 apartments, according to an article by my colleague Eliot Brown. Sources say that Eastern Consolidated did not do this deal.