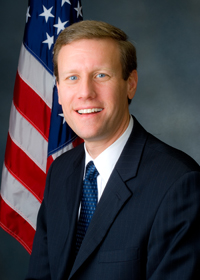 ALBANY—State Senator David Valesky is being singled out once again.
Union 32BJ is on the air with various versions of a radio ad targeting individual senators—including Valesky—for not signing on to a bill to tighten up restrictions on industrial development authorities, a union official confirmed. The version below, which relates a fictional conversation between two people, is running in central New York.
A man says, "What I don't understand is why my company got tax breaks from the government to create new jobs and now is laying us off."
The a woman replies, "I can't believe Senator Valesky's letting this happen."
Valesky was previously targeted by the Hospital Association of New York in its last budget ad blitz; he's also frequently by Minority Leader Dean Skelos at press conferences.
I caught him in the hallway yesterday and asked if he felt he feels all this attention is unfair.
"Not at all," he said.
I asked him if he felt he was being targeted.
"If there are those out there who think that they need to take certain actions, then they are doing what they ought to be doing. I am here to represent the people who sent me here, and I have never been one to be pressured into voting a certain way by any particular special interest group, no matter who it is. That's never been the case and it never will be the case for me. So they can do whatever they want and say whatever they want, but I'm not going to be one that's pushed around by any type of special interest."
The union is also running similar ads against State Senators Bill Stachowski in Buffalo and Roy McDonald in the Capital Region. More might be coming, a union official said.