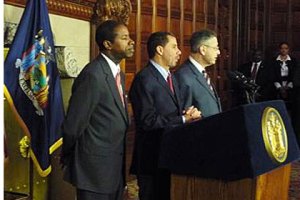 ALBANY—Legislative leaders just defended the budget deal they've agreed on, acknowledging its many shortcomings at a Red Room press conference, but saying they were justified, due to the unprecedented level of the deficit and tough times.
That includes the closed-door process that produced the budget, something Republicans and open-government advocates have both criticized.
"I know there are people who have talked about the process of this budget," Senate Majority Leader Malcolm Smith said. "You have difficult times that require some different approaches."
"I want to make it very clear: in no uncertain terms—is everybody happy with this process? I can't say yes," he continued. "I would ask that the public understand that we did the best we could under difficult situations."
Paterson said that the $131.8 billion budget, which has ballooned from its originally proposed size, actually holds spending in line. The new number, he said, was artificially inflated because it includes stimulus money that is just passing through several programs. General fund spending, he said, was held to a very small amount of growth.
"If you really sit down with some of our analysts and let us show you, this may be the time that may be cited as the time when this state turned not only its finances around, but its priorities around," Paterson said. "The stimulus is a false economy. It was designated in the sense that it has to be appropriated."
He was asked whether it made economic sense to raise income taxes during a recession, which he has said he was loath to do in the past because he felt it would drive high earners out of state.
"It makes economic sense because it helps us balance the budget," he said. "This isn't about economic sense. There should probably be the question, does it make sense? And the answer is no: None of this makes sense. We don't want to tax the wealthy. We don't want to put these taxes in the way of fees. We don't want to hold our school budgets at zero increase at the time that our children need education. We don't want to in any way hinder anybody's ability to get health care. We don't want to lay workers off. This is the responsible thing. But if you pick it apart and question one by one, is it a good idea to be cutting these resources? No."
(In a statement, Senate Minority Leader Dean Skelos just said, "Governor Paterson and I agree on one thing—this budget doesn't make sense.")
Also, Smith said his chamber would do something to address property-tax growth this year, but was unspecific about what would be done or how it would be paid for. He justified the inclusion of member items as a "cushion" against cuts for communities.
Paterson said he isnt't a loser in this budget; he got 75 percent of the cuts he proposed. And the governor said that layoffs are decidedly not off the table, since public employees unions have not agreed to many of the cost-savings measures he asked for.
The governor also, ominously, predicted that this is nowhere close to the end.
"I believe that we will run three to four billion more deficit in the next year," he said. "We have not found the floor of this deficit."