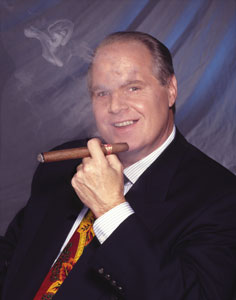 Once upon a time, our conservatives liked to say that "ideas matter." They attributed this pithy slogan to their idol Ayn Rand, venerated author of Atlas Shrugged and The Virtue of Selfishness, and they tried to live by it, generating books, papers and legislative proposals by the dozen. Although many of their theories later proved flimsy, they at least appeared to address real problems with fresh thinking.
But ideas no longer matter—and in fact, they're dangerous, according to the maximum leader of the right.
At the Conservative Political Action Conference in Washington last week, Rush Limbaugh declared that new ideas ought to be shunned by every right-thinking American. Draped ominously in black, the radio kingpin savaged those in his movement who have dared to suggest that the right needs policy alternatives to compete with Democratic plans for economic revival, universal health care, environmental stewardship and educational improvement. Ranting on for more than an hour, he warned against any reconsideration of the sacred platitudes of Reaganism.
"Everybody asks me … well, what do we do, as conservatives? What do we do? How do we overcome this?" said Mr. Limbaugh, and of course he had a simple answer: "One thing we can all do is stop assuming that the way to beat them is with better policy ideas." He went on to denounce the conservative "media and policy types" in the "Beltway establishment" who have written on "the concept that the era of Reagan is over." That cued loud booing from the audience, which turned into cheers as Mr. Limbaugh roared: "We have got to stamp this out within this movement because it will tear us apart. It will guarantee we lose elections."