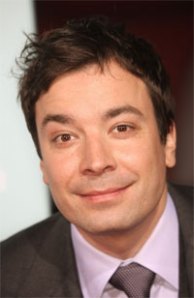 Last night, newish late night host Jimmy Fallon welcomed Kevin Rose and Alex Albretch of Digg to Late Night. As The Observer noted in January, Mr. Fallon is heavily wooing the geeks to watch his show, even appearing on Messrs. Rose and Albretch's Diggnation Web show before he took to the air on NBC
Mr. Fallon used the segment to chat with his fellow techies about Twitter (one of Mr. Fallon's minor obsessions) and what exactly Digg does. "It's like making your own newspaper!" Mr. Fallon explained.
The three went on to conduct a "Twitter Experiment" in which they attempted to make an audience member "bigger than Barack Obama" by promoting his Twitter account on the show and in tweets on their own Twitter pages. They asked people to follow amateur cartoonist Bryan Brinkman (@bryanbrinkman), to make him the most popular Twitter user. As of this morning, Mr. Brinkman has 22,878 followers. Mr. Obama, for the record, is the most-followed Twitter user, with 424,176 followers.
In a Web exclusive, Mr. Fallon also gave special treatment to DiggNation fans waiting outside the studio for the show to start by bringing them bagels and cream cheese he stole from the Morning Joe studio and $40 to get coffee and breakfast. Dig that!