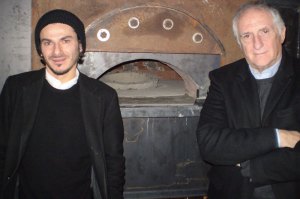 Filmmaker Bob Giraldi and his partners have invested some $30,000 in a custom-built, rotating, wood-fired pizza oven that's unlike any other in Manhattan.
And hot! "A thousand degrees," said Mr. Giraldi, making steamy sounds to emphasize that point.
The newfangled kitchen equipment is part of a sweeping plan to reposition his long beleaguered restaurant at 235 East Fourth Street, salvaging the seven years left on his lease and his reputation in the process.
It would be a remarkable resurrection befitting the guy behind the "Viva Viagra!" television commercials. If, of course, he can pull it off.
"The saga continues!" Mr. Giraldi told The Observer. It's a saga that underscores the lingering neighbor-vs.-nightlife tensions downtown and the widespread rollback of fine dining in post-downturn Manhattan.
Three years ago, the 70-year-old producer and director of some 3,000 commercials, music videos and short films was cast in the dubious role of neighborhood pariah. His plan to open a splashy, European-style gastropub called E.U. in the roughly 2,500-square-foot former church warehouse drew a swift rebuke from angry East Villagers fearful of the "pub" part of that equation.
A vocal community already wrangling with sprawling nightlife was not bemused by the thought of depraved Hollywood types taking root, too. For them, the celebrity-run eatery would serve as a catchy symbol of their overall plight. So they went after him. Hard.
The level of public outrage convinced the State Liquor Authority to reject in March 2006 Mr. Giraldi's application for a full liquor license, a blow from which the embattled E.U. never fully recovered.
"I've been through the worst here," said Mr. Giraldi. "I've really gone through some pretty demeaning and depressing meetings with the community. It was hurtful. They love to sling insults and tell stories that, a lot of the time, aren't true."
The man behind such MTV gems as Michael Jackson's "Beat It" and Pat Benatar's "Love Is a Battlefield" admitted he was an attractive target.
"I have a feeling—I hate to say this to a newspaperman—that I get persecuted because I'm somewhat successful, you know?" said Mr. Giraldi, also a co-owner in nearly a dozen restaurants from Chicago to Hong Kong, including celebrated chef Jean-Georges Vongerichten's seminal Manhattan eatery Jo-Jo. "Maybe if I was a little bit more down and out," he said, "things would be a little better."
FORCED INTO SOBRIETY, Mr. Giraldi initially tried to open E.U. in a bring-your-own-booze capacity but quickly ran into regulatory trouble. Unprofitable without alcohol, the place was barely open a month before closing.
Eventually, Mr. Giraldi reached a deal with neighbors and regulators to reopen the restaurant with limited beer and wine sales only. But his woes were not over. The eatery quickly burned through a series of chefs, including the highly touted Akhtar Nawab, garnering only a lackluster one-star review in The New York Times along the way.
It never truly established a steady clientele beyond the typically busy Friday and Saturday night crowds, Mr. Giraldi said.
"We struggled," he admitted. "The economy, confusion of the menu, the neighborhood—it all added up to, you know what? It's not as successful as we'd like it to be. And you know what really hurts us? No liquor. If we had liquor, it would put us over the edge. But we don't have liquor." At least not yet.
Mr. Giraldi had recently begun talks with yet another hifalutin chef when he came to the sudden realization that maybe fine dining wasn't such a great idea for the area or the current sluggish economic situation. "We had a deal," he said, "until one day, I said, 'Self, wake up, for chrissakes! Why would you bring in somebody even better than Akhtar, or as good as Akhtar, when the people don't want it?' They want it on Friday and Saturday night but they don't want it all the other nights."