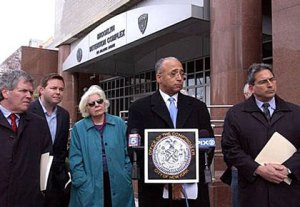 Stimulus funds are going to paint the Brooklyn Bridge, which hopefully does not mean there isn't money for structural repairs.
The Greenpoint Avenue Bridge and two bridges on the Bruckner Expressway will also benefit.
A Scott Murphy mailer features Sarah Palin, Rush Limbaugh and George W. Bush.
Bouldin wonders why Kirsten Gillibrand's endorsement is on it, but Barack Obama's is not.
Murphy announced that the company he invested in that gave bonuses criticized by Jim Tedisco is hiring, so there.
Gillibrand is making an enthusiastic push for campaign money as the end of the quarter nears, and so is Steve Israel.
The Utica Curling Club and the Urban Yoga Foundation are just two of the many member items included in the state budget.
Benjamin Kabak thinks it's not really fair, but he agrees with David Seifman that Michael Bloomberg will probably be blamed for the M.T.A. debacle.
Steve DiBrienza has reportedly dropped out of the City Council race.
The Board of Elections needs more time to get new voting machines.
Metro-North is considering adding a West 60th Street station.
If it were up to Bill O'Reilly, Bloomberg would be named one of the 100 most influential people by Time, but not everyone feels the same.
Obama to auto companies: enough, OK?!
Hillary Clinton doesn't believe in miracles, apparently.
 
The president signed a massive wilderness-protection bill.
The potential cause of World War III: Minnesota.
 
The New York Times is killing the City section.
 
Austan Goolsbee, populist.
 
"Is it Socialism? Or are the Fat Cats finally being Dumped for Messing With Your Tax Dollar$?"