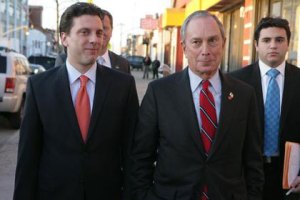 Gene Russianoff issues an important reminder about the doosmday plan the M.T.A. just approved: it's only the beginning.
A transit advocate debunks some myths around the M.T.A.'s finances and writes, "Stop blaming the MTA, and blame the people who deserve to be blamed."
Bill Thompson laments, "It didn't have to come to this."
State Senate Republicans: not our fault.
According to Benjamin Kabak, it's pretty clear who is getting blamed.
The Angry New Yorker is actually pleased that the M.T.A. has been hung out to dry.
Three polls make the Tedisco-Murphy congressional look like a toss-up.
Buffalo Pundit thinks the unions representing public employees have only themselves to blame if David Paterson lays off 8,900 of them.
Chuck Schumer is trying to get aid for an upstate auto parts plant that is on its way to closing after union members refused to open their contracts.
Responding to comments from Frank Gehry, Steven Ratner insists Atlantic Yards is happening.
Reporting from a geography conference, the Green Queen Bee asks, "do we [New Yorkers] really want to grant Vegas bragging rights as the leading 'Green Development' city?"
In his debut as radio host, Rod Blagojevich says of politics, "The process is basically rigged to benefit the insiders."