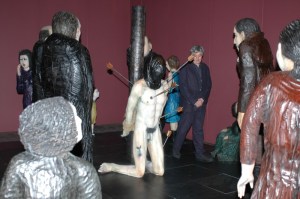 Manhattan District Attorney Robert Morgenthau appeared to relish the press corps' befuddlement at his explanation of art dealer Larry Salander's alleged scam to bilk investors, collectors, banks and galleries of some $88 million.
So he put it simply: "He sold paintings he didn't own!"
Mr. Morgenthau on Thursday, March 26, announced a 100-count indictment against the
embattled 59-year-old proprietor
of the
bankrupt Salander-O'Reilly Galleries
on East 71st Street. The charges include grand larceny, securities fraud, forgery, falsifying business records and perjury. Mr. Salander was arrested earlier in the day at his home in Millbrook, N.Y.
Micki Shulman, deputy chief of Mr. Morgenthau's fraud division, was on hand to explain Mr. Salander's complicated and allegedly fraudulent schemes. She used simplified billboard illustrations to represent examples of Mr. Salander's technique of selling half-interests in single paintings to multiple investors—in some cases without even having owned the painting in the first place.
Ms. Shulman spoke in the patient tones of a third-grade teacher introducing her students to the concept of fractions. But, in Mr. Salander's math, claims the D.A., it took three, four, or sometimes even five halves to add up to one.
In one example, Salander is accused of having sold tennis star–turned–art collector John McEnroe a half-interest in two Arshile Gorky paintings, with the promise that he and Mr. Salander would share the profits once the paintings were sold. Trouble was, Mr. Salander had already sold half-interest in the same two paintings to investor Morton Bender. But, according to the D.A.'s office, that didn't stop Mr. Salander from claiming full ownership of both paintings as collateral for a $2 million loan from Bank of America.
When one reporter asked whether Mr. McEnroe had thrown one of his trademark tantrums during the course of the investigation–to the chuckling of many in attendance–a collected Ms. Shulman replied: "Mr. McEnroe is an absolute professional."
In another example, Mr. Salander is accused of having sold three half-interests in the Stuart Davis painting Brown Still-Life to three different investors on speculation for the price Salander claimed he'd eventually sell it for. Salander eventually did sell the painting to the Owings-Dewey gallery, but then failed to make good on his promise to investors.
The kicker? Mr. Salander didn't own Brown Still-Life to begin with! He held it on consignment from Earl Davis, the son of the artist.
"I'm sure you understand all of that," Mr. Morgenthau told the confused-looking press. "That's why it took the jury six months" for an indictment, he added.