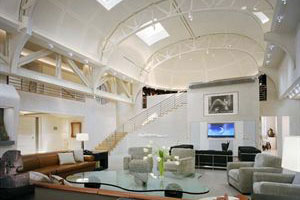 Even if most of New York's well-heeled homeowners have figured out that their exceptionally huge real estate isn't worth quite what they once imagined, a few are having a hard time making the adjustment. They're like smiley Dutch florists in post-bubble 1638.
Trump Park Avenue, for example, that beautiful old hotel-turned-condo, hasn't had any price cuts on its five remaining big penthouses, according to the listings Web site Streeteasy, even though some have been on the market for as long as three years and four months.
Meanwhile, some price cuts don't seem to be quite huge enough. Bear Stearns' ex-COO Alvin Einbender, once one of Wall Street's highest-paid executives and the man who gave the nickname "Ace" to his old college roommate Alan Greenberg, just took $4 million off the tag for his massive apartment in Little Italy's baroque Police Building at 240 Centre Street. His new price, $26 million, is still gargantuan.
"There's no equal to it—the lighting, the spaciousness, the cubage," Mr. Einbender said Monday evening from the onetime NYPD gymnasium, which his friend Charles Gwathmey renovated into a barrel-vaulted, four-bedroom, 6,600-square-foot apartment. What does cubage mean? "I'm sitting in a room now that is 60 feet long, 40 feet wide and 25 feet high," he explained.
The new tag, to be fair, is more realistic than the original $30 million price from last May. Only one New York apartment below 14th Street, an 8,000-square-foot Hudson Street penthouse with an extra 4,500-square-foot terrace, has ever sold for that much.
Mr. Einbender and his wife first listed the apartment, which reportedly cost $2.2 million to buy but $13 million to renovate, two months after Bear Stearns' March 2008 collapse. "It was instrumental in our thinking, yes. Just, you know, you live in a world that's not static. And you reevaluate your position, frequently, as I always have," Mr. Einbender explained in his professorial drawl. "And I thought there was enough financial pressure in the world that in order to be in a position of total confidence, I should downsize."
He believes the ex-gymnasium will sell for somewhere around his new asking price, and has no plans to list his second home in Pound Ridge, N.Y. "We've got 10 acres up there," he said.
"I think it's a little ambitious," his broker, Stephen Kotler, who is handling the apartment with his brother, Michael, said later about the new tag. "But we just had a little activity after lowering it, and we'll see what happens, and we'll assess it again. And it's not like we're not willing to listen to offers."
mabelson@observer.com