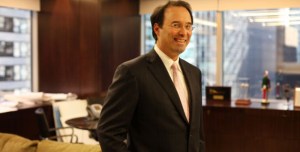 Extell's Gary Barnett sure is keeping himself busy.
Last week, he disseminated nothing less than a manifesto to rescue the economy, and today, he filed plans with the Buildings Department for an 830,000-square-foot, Costas Kondylis-designed tower for the empty crater at 157 West 57th Street.
George Arzt, Extell's spokesman, said the tower would contain a hotel and a residential complex. If Extell's timing is right, the building might top off just as the economy begins its recovery, at some unknown and, frankly, unfathomable point in the future.
The New York Post's Steve Cuozzo first got wind of the hotel portion of the plans in December, by way, oddly enough, of a Web site belonging to Aegis Security Design, which, Mr. Cuozzo reported, "claims the tower diagonally across from Carnegie Hall will house a '5-star' Park Hyatt Hotel, stores and luxury condos."
The source for that story was an odd one because, as Mr. Cuozzo pointed out, "Aren't security firms supposed to keep secrets secure?"
Apparently, Extell agreed. Mr. Arzt tells us Aegis had signed a confidentiality agreement with the developer, and has since been axed.