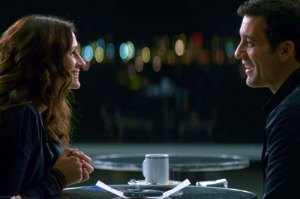 You know what one sure sign of springy-like things to come is? Saying au revoir to crappy studio holdovers (cough, New in Town) and hellooo to big, big movie stars—Julia Roberts, Clive Owen, Russell Crowe, Ben Affleck!—plus plenty of shiny high-tech action heroes to entertain us till the next Harry Potter installment (finally) comes out in July. Speaking of which, the very first big-ass-highly-anticipated-based-on-a-comic-book-and-fans-lose-their-minds movie, Watchmen, opens this weekend. Directed by Zack Snyder (300), this one has all sorts of good folks, including Patrick Wilson, Jeffrey Dean Morgan, Malin Akerman, Matthew Goode, Jackie Earle Haley and Billy Crudup, who plays Dr. Manhattan, which means that for the majority of the film he is glowing, blue and naked. (Is this our first ever cinematic glimpse of superhero shlong?) The movie is stylized, crazy violent and incredibly long (we felt all of its two hours and 41 minutes), but we're guessing its devoted fan base will remain thrilled through the whole thing.
March 20 brings Duplicity, for which we have only one word, which is, hooray! Written and directed by Tony Gilroy, who gave us the lean and mean Michael Clayton in 2007 (pound for pound one of the best screenplays of the last few years), Duplicity stars Julia Roberts and Clive Owen as ex-spies turned corporate operatives who double-, triple- and probably quadruple-cross each other and their respective companies, all in order to do something for money or power or love—who cares? Julia Roberts and her big hair and teeth and long legs is finally back to show us what a true female movie star looks like. (Take that, Katherine Heigl!) Add to that what looks to be some crackling chemistry with Mr. Owen (whom we've already forgiven for The International), plus the always awesome Tom Wilkinson and Paul Giamatti, and we are so very there. The same weekend also has the very funny I Love You, Man, which is shockingly and happily not from Judd Apatow, but writer-director John Hamburg (Along Came Polly, Meet the Parents); it follows Paul Rudd and Jason Segel as they pursue the ultimate bromance. We've seen this sucker, and all we can say is this: Prepare to find yourself blindly downloading Rush as soon as you leave the theater.
The last week of March has Adventureland, from Superbad writer-director Greg Mottola, which teems with oodles of delicious '80s nostalgia. The Squid and the Whale's Jesse Eisenberg stars as a college kid who takes a job working for SNL'ers Bill Hader and Kristin Wiig at an (awesome-looking) theme park for the summer. There he will skinny-dip with Twilight's Kristen Stewart! And get beer from Mr. Ripped Canadian, Ryan Reynolds! Maybe somehow the music of Rush ends up in this one, too? Fine by us!
April starts off slowly, downright cruelly some might say, with another Fast and Furious on the 3rd and—shriek!—Hannah Montana: The Movie (read: we're all going to die) on the 10th. But then on the 17th is the hotly anticipated State of Play. Directed by Kevin Macdonald (The Last King of Scotland), this thriller has a bit of everything—intrigue, sex, conspiracy, politics (newspapers are considered important!)—and stars Russell Crowe, Ben Affleck, Rachel McAdams and Helen Mirren (if it's anything like the original British miniseries, it should be awesome). The following weekend brings us The Soloist, which at one time was considered to be a major Oscar contender for last year before being unceremoniously shuffled from November to April. It has all the ingredients: directed by Joe Wright (Atonement), written by Susannah Grant (Erin Brockovich) and starring Robert Downey, Jr. (he who can do no wrong) and Jamie Foxx. Plus, it has an inspirational true-story element. Good luck!
O.K., but then May comes around and you know what that means. It's Wolverine time! Some of us have still not recovered from song-and-dance man Hugh Jackman's hilarious Oscar opener, but it was just a taste, a warm-up, for the awesomeness we believe will be X-Men Origins: Wolverine. The claws! The origin story! Liev Schrieber growling! And, holy hot, Taylor Kitsch from Friday Night Lights! Will everyone forget about Australia and just bow down to the power of the Hugh? On May 8, more geek ecstasy with funny ears and uniform: Star Trek beams in courtesy of director J. J. Abrams and a new cast that includes Chris Pine as Kirk and Heroes' Zachary Quinto as Spock, not to mention Winona Ryder, Eric Bana, Simon Pegg, and Zoe Saldana. In IMAX. If this thing makes less than a kabillion dollars, we will be very, very surprised.
And the big hits keep coming! May 15 reunites Tom Hanks with his Splash director Ron Howard in Angels & Demons, the sequel to 2006 smash The Da Vinci Code. This one kinda looks cool—with church cover-ups and Ewan McGregor as a priest! And Stellan Skarsgård (who so impressed James Franco and Seth Rogen in their Oscar skit—YouTube it!), plus some pretty girl who didn't get to say one single word in the trailer. And then, finally, we come to Memorial Day Weekend and hellooo evil robots! May 21 gives us the hotly anticipated Terminator Salvation. Oh yeah, we're talking Christian Bale as John Connor, plus Bryce Dallas Howard, Sam Worthington, and Helena Bonham Carter, and robots trying to kill us all (pay attention, folks!). This thing looks dark and terrific, and with director McG at the wheel, expect lots of action-y madness. Maybe now we can start to understand some of the stress Mr. Bale was under before he infamously went bananatowns on that poor DP.
svilkomerson@observer.com